Description
~ SOLD ~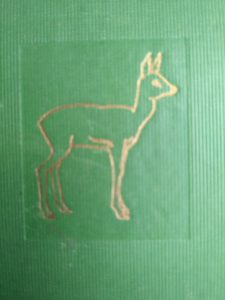 BAMBI A Life in the Woods, By Felix Salten, with a forward from John Galsworthy.  July 1928. 1st American Edition. Hardcover; 1st Printing. This is the 1st edition/1st printing of the trade edition, stating on the copyright page 'First Printing in America, July, 1928' and having the same 1928 date on title and copyright pages. Printed in English for the first time in both the U.S. and U.K. in 1928.
This was the first time this book was printed in the English language.  It is published by Simon and Schuster in New York.  It. was translated by Whittaker Chambers, and the beautiful illustrations are done by Kurt Wiese.
The book is bound in green cloth with gilt spine printing and a gilt deer on the front panel. The illustrations are B&W, except for the pastedown/end page illustrations which are in greens and browns. The book is straight, clean, tight and has no handwriting or soiling; there is just a  slight amount of shelf-bumping to the cloth of the spine end. The dust jacket which is considered Rare-to-find with this book is not present.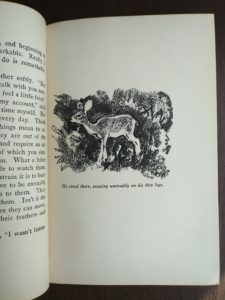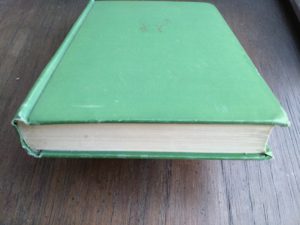 Bambi's printing history has a rather complicated printing history, as stated by the Simon & Schuster pamphlet issued by Richard L. Simon and M. Lincoln Schuster, stating that 'Bambi was first published in Berlin by S. Fischer in 1921. It sold less than 2,000 copies. In 1926 it was published again in Vienna by Paul Zsolnay. In two years it has sold over 20,000 copies in the new German edition.' The pamphlet also speaks of the then 2-year-old Book of the Month Club having subscribed before publication of the trade edition for 50,000 copies of Bambi for July (same month it was published in trade edition by Simon & Schuster). There is also an 'Inner Sanctum at Simon & Schuster' statement on the page following the last text page, stating that Simon & Schuster were so enthusiastic about Bambi that 'they'd ordered a first edition trade printing of 75,000 copies' (quite large for that time).
This copy for sale is one of the  'first edition(s) of seventy -five thousand copies', as written in the Inner Sanction statement on the page following the last text page.   The Inner Sanctum statement opens as follows; " The Inner Sanctum made three glamorous pilgrimages […] and ends with "[this] is a first edition of seventy-five thousand copies …".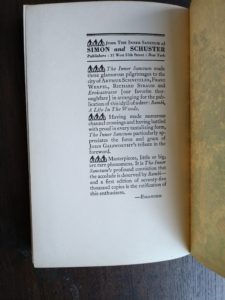 Just to make things more confusing, there were a Limited 1,00o  copies also published as first editions, preceding our first edition trade issue.  These are almost always priced over 9,000 and fetch between 14,000 and 16,000 in mint condition.  The binding and impression are exact to this copy and the only way you know you have one of these 1,000 copies is if your Inner Sanctum statement opens as follows; "This is a first edition copy of Bambi".
The Story of Bambi: 
The death of Bambi's mother is many children's first encounter with death. But the history of the book that inspired the film is even darker story than the story it tells.
Born Siegmund Salzmann, Bambi author Felix Salten was brought to Vienna as an infant in 1869, shortly after the government allowed Jews citizenship. Already a prolific writer by the time he published Bambi in 1923, Salten achieved international renown with the novel's English translation. In 1936, however, Bambi was banned by the ruling Nazi party because of its "political allegory on the treatment of Jews in Europe." Burnings of the book were organized across Nazi states.
As anti-Jewish sentiment increased, Salten moved from Austria to Switzerland, where he wrote a sequel, Bambi's Children. Meanwhile, one of Bambi's fans, publishing magnate Max Schuster, introduced Salten to Walt Disney, who was taken with the book and wanted to adapt it. Bambi, the film, was released in 1942. And the rest—as they say in Hollywood—is history.
It makes me wonder how many of these 75,000 First Edition copies were also destroyed by these burnings.
———————————————————————————————————-
Size: 8-1/16″ x 5-5/8″; 293 pages.
There are usually always copies to be found for sale at any time, and I see the prices all over the map for this 1928 First Printing in America copy.   People are asking anywhere from prices under $100 all the way up to past $900 US Dollars.  Although I would deem a copy that is in Good Condition to hold a steady median value of between $300 – 400. There are usually always copies to be found for sale at any time, understandably due to the vast printing of this copy.  So if you are patient in your purchase, from time to time a seller will post a Good condition copy of this edition for under $100.  If you see this, especially if it is in GOOD condition,  I suggest snapping it up if you were considering buying this book.
I find Ebay a good place to spot someone selling this book from time to time at a bargain price.  Here is a convenient link to everyone listed as selling a 1928 copy of Bambi, A Life in the Woods on Ebay.
~See all of the pictures posted in the gallery area of this post!~