Description
~ SOLD ~
Just So Stories For Little Children, by Rudyard Kipling
Publisher: London: Macmillan and Co., Limited, 1902
First edition, second printing.  This book was printed one month after the first edition, in October 1902.  The First ever printing was September 1902.  On the page adjacent to the table of contents, reads First Edition September 1902, reprinted October 1902.
Condition: This book is in impeccably good condition. Near Fine.
The striking illustrated binding is beautifully preserved – square, clean, and tight with only light wear to extremities.  The contents are clean and bright.  There are no previous ownership marks. This copy is in impeccable condition.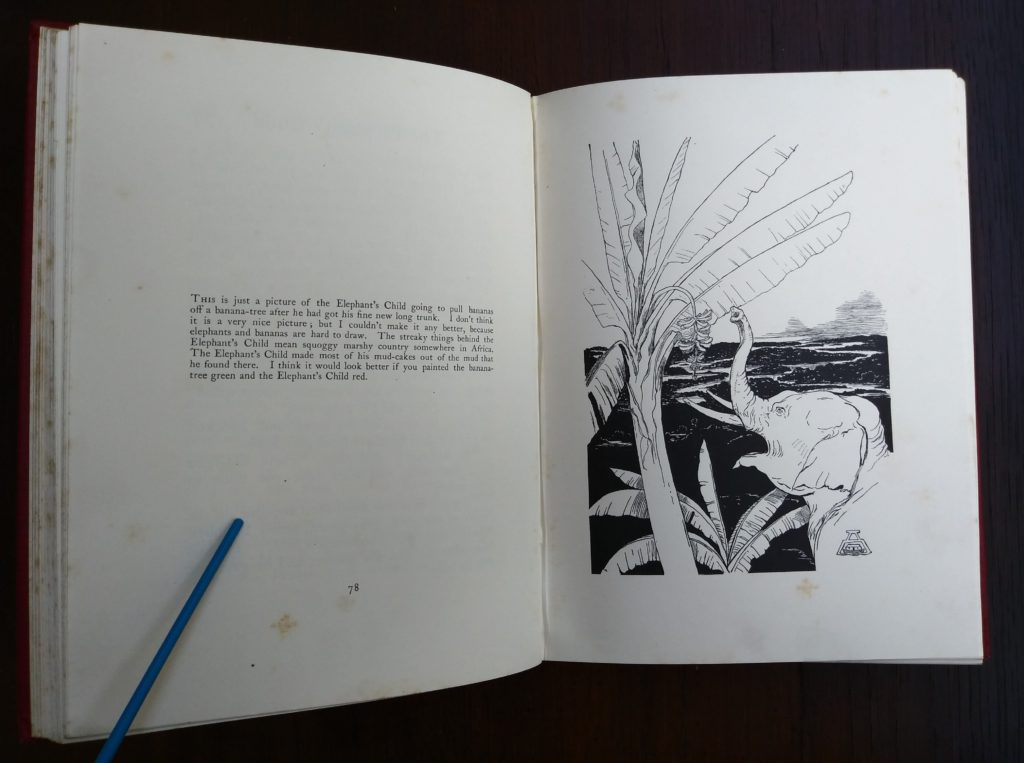 The Just So Stories for Little Children are a collection written by the British author Rudyard Kipling. Highly fantasized origin stories, especially for differences among animals, they are among Kipling's best-known works.
The stories, first published in 1902, are Pourquoi (French for "why") or origin stories, fantastic accounts of how various phenomena came about. A forerunner of these stories is Kipling's "How Fear Came," included in his The Second Jungle Book (1895). In it, Mowgli hears the story of how the tiger got his stripes.
About this Copy: 
The first edition features 22 full-page plates of illustrations by Kipling himself, including a map printed in red and black, historiated capital letters for chapter openers, and in-text illustrations.  It is the only one of all the many books that Kipling illustrated himself.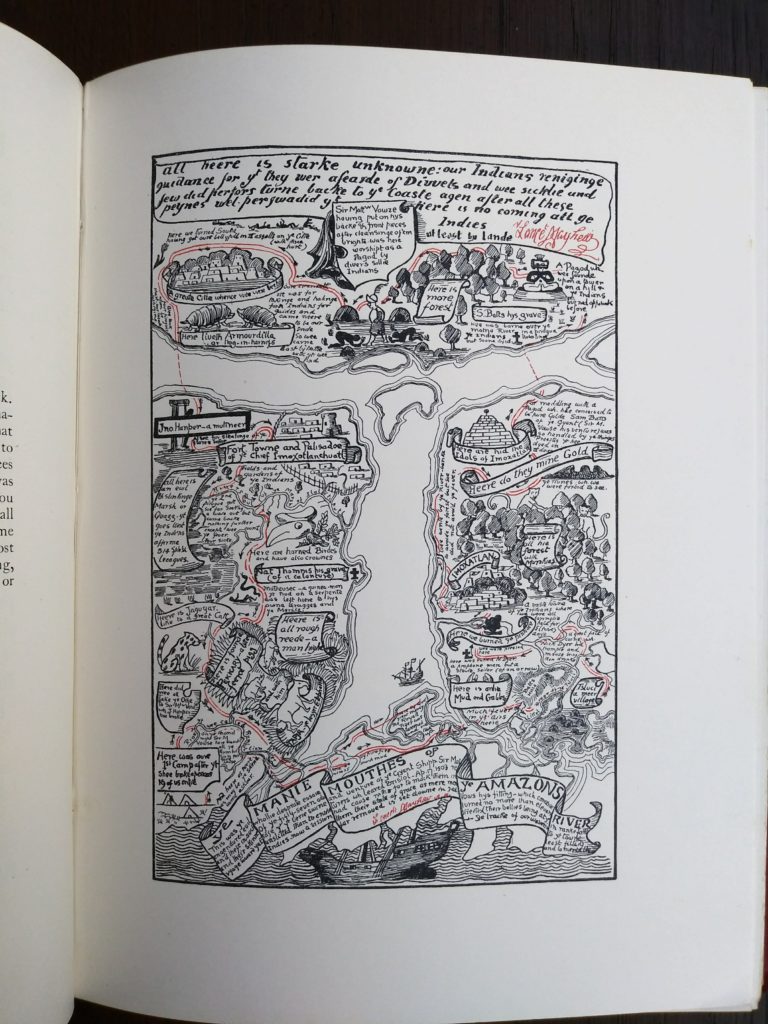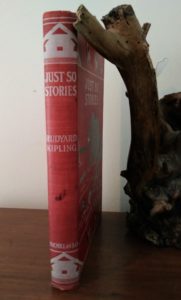 The Just So Stories typically has the theme of a particular animal being modified from an original form to its current form by the acts of man, or some magical being. For example, the Whale has a tiny throat because he swallowed a mariner, who tied a raft inside to block the whale from swallowing other men. The Camel has a hump given to him by a djinn as punishment for the camel's refusing to work (the hump allows the camel to work longer between times of eating). The Leopard's spots were painted by an Ethiopian (after the Ethiopian painted himself black). The Kangaroo gets its powerful hind legs, long tail, and hopping gait after being chased all day by a dingo, sent by a minor god responding to the Kangaroo's request to be made different from all other animals.
The Just So Stories began as bedtime stories told to 'Effie' [Josephine, Kipling's firstborn]; when the first three were published in a children's magazine, a year before her death, Kipling explained: ″…in the evening there were stories meant to put Effie to sleep, and you were not allowed to alter those by one single little word. They had to be told just so, or Effie would wake up and put back the missing sentence. So, at last, they came to be like charms, all three of them,—the whale tale, the camel tale, and the rhinoceros tale."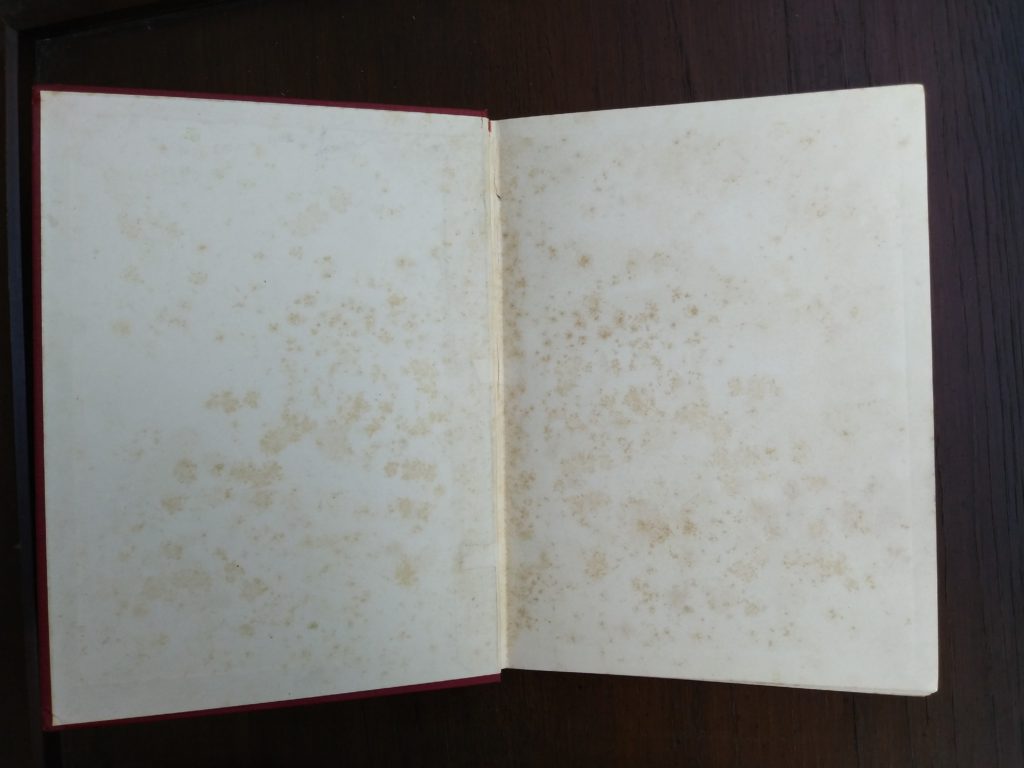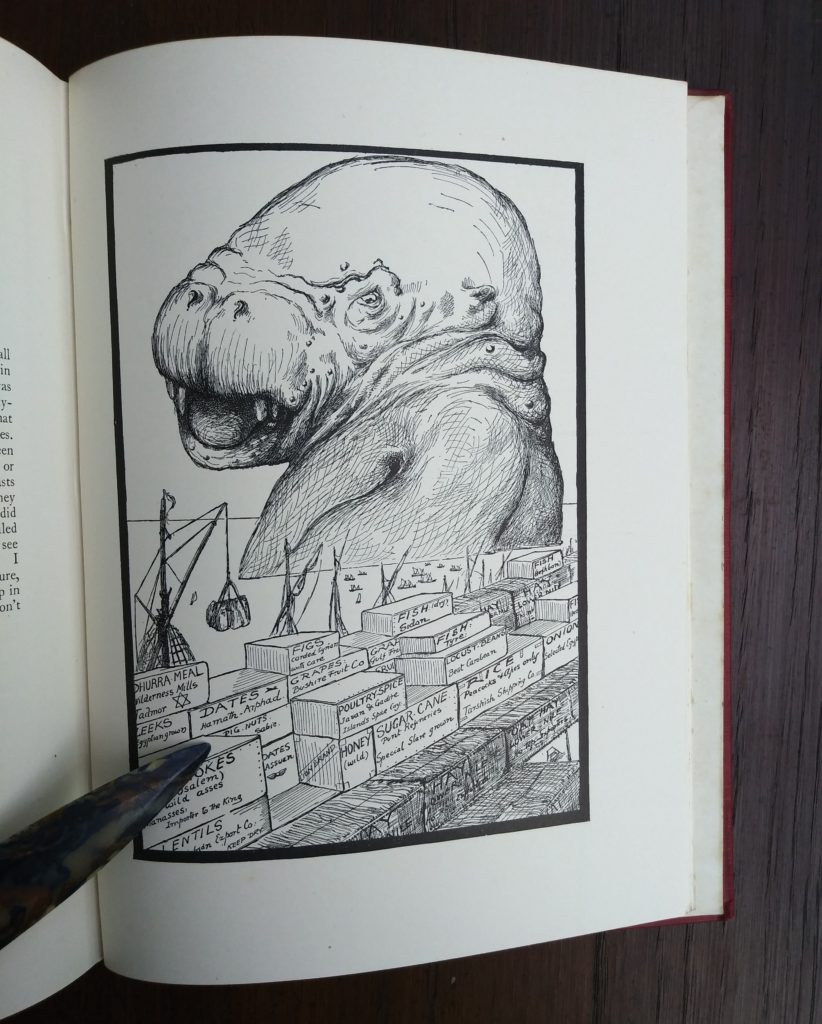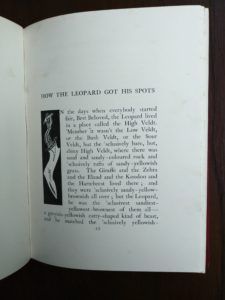 About Rudyard Kipling: 
Joseph Rudyard Kipling (1865-1936) was an English poet, short-story writer, and novelist chiefly remembered for his celebration of British imperialism, tales and poems of British soldiers in India, and his tales for children – of which, of course Just So Stories and The Jungle Books are the par excellence examples.  Kipling was in his twenties when his stories of Anglo-Indian life made him a literary celebrity, and he was awarded the Nobel Prize in Literature in 1907 – the first English language author awarded.  He remains the youngest person to be awarded the Prize.
Born in India and educated in England, Kipling could not afford to attend either Oxford or Cambridge University and instead returned to India to work as a newspaper editor and writer. Kipling, who had written verse since he was young, also began to write short stories, publishing seven volumes of fiction between the years 1888 and 1889, before the age of 24. He returned to England in 1889, later living in the United States and South Africa before finally settling in England. But it was India that gave Kipling his most enduring literary settings and inspiration.
Kipling began publishing some of what would become the Just So Stories in English and American periodicals between 1897 and 1902.  It was the son of Kipling's great friend and American publisher, F. N. Doubleday, who spurred the endeavour to grow into an iconic children's book.  Seven-year-old Nelson Doubleday wrote to his father's friend: "Dear Mr. Kipling:  I have been reading your 'Just So' stories in St. Nicholas, and I think they are very good.  I wish you would write some more stories like those.  I want to know 'How the Elephant Got His Trunk,' 'How the Giraffe Got His Rubber Neck' and 'How the Kangaroo Got His Long Legs.'  If you write these stories, please send them over to my father, and if they are good enough he will publish them in a book.  I hope you will write them and that he will publish them.  Yours truly, Nelson Doubleday"  Nelson would eventually become president of Doubleday from 1922 to 1946.  The title of the book comes from the December 1897 publication of "How the Whale Got His Throat" in St. Nicholas magazine, where it was noted that this type of story " 'had to be told just so, without alteration of 'one single word'" (Richards A181).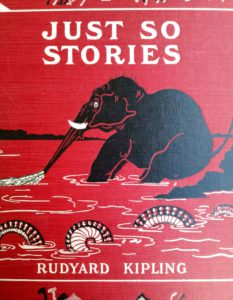 Though rooted in an Empire sensibility that became archaic even before his death, Kipling's best tales remain iconic, even elemental examples of the storyteller's craft.  "There has yet been no writer of short stories in English to challenge his achievement, which ranges through space from India to the home counties, and through time from Stone Age man to the contemporary world of football matches and motor cars. These stories, moreover, exhibit every kind of treatment, from the farcical to the tragic, and their structures vary from the simplest anecdote to the most complex and allusive philosophical fiction, dense enough to support endless exegesis and commentary.
---
As you can see the binding of this copy is bright with very little wear and minimal to no bumping on corners.  It is a beautiful copy any collector would be happy to buy.
Tip for the buyer:  If you are looking to buy a First Edition copy of Just So Stories it is advisable that you ask to see the page adjacent (to the left of the contents page).
Here a picture of the spot in the book I am referring to:
Here you can see that it was reprinted in October 1902, and that the very first Printing was September 1902.  So this was printed one month after the first ever printing of the novel.  If it was a First printing this page to the right of the contents page would be completely blank. You can see here that it is a second printing.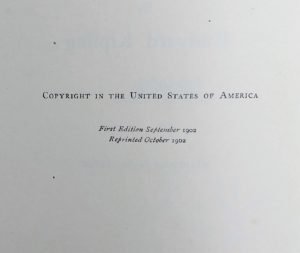 Why it is important to reiterate this, is because the Title page (which shows the year, 1902 as the published date), is exactly the same as the First printing.  In fact, the entire book is exactly the same except the spot on the page to the left of the contents page.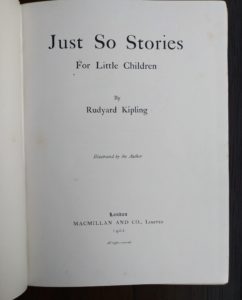 Most of the time only this title page is shown when this First Edition book is sold online.
See all of our pictures posted in the Gallery area!
---
We want to be one of your favourite collectible bookstores to browse, and want to make it easy for you to look around and compare.   So although we
love our copy of this book because of its immaculate condition, another place to look is  HERE to be directed to a list of anyone selling a 1902 First Edition copy of Just So Stories on Amazon at the moment.
---
The novel Just So Stories is larger in size than most other novels.  Here is a picture of this one for sale next to a standardly sized novel, in this case, another one of Rudyard Kipling's books, a 1983 copy of Many Inventions.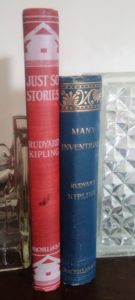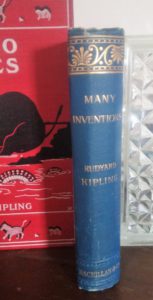 This  First Edition, First printing of  Many Inventions featured in these pictures are also for sale at Ash Tree Books, but we have not posted it yet!
Thank you for viewing! Ash Tree Books just came online this past week but we will be putting a book up daily and posting in the Collectors Book Blog section weekly, things of interest to book collectors!  Feel free to message us your comments on what you may like reading about or any questions you have about anything we have for sale! We want to hear from you!
~See all of the pictures posted in the Gallery Area of this posting!~
~ Price posted is in (CAD) Canadian Dollars ~