Description
DOCTOR DOLITTLE'S ZOO is written and illustrated by Hugh Lofting.  It was first published in 1925.  This particular book was printed and bound in Great Britain by Butler & Tanner Ltd in 1966.  It is the nineteenth impression and is book number 5 in the Doctor Dolittle Series.
The condition of the book is impeccable, and this 1966 copy is not common.  All of the pages inside are clean and tight to binding as if the book were new.  The binding color is baby blue.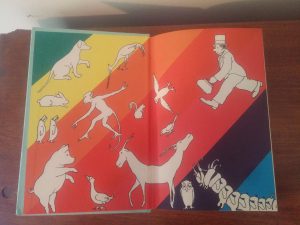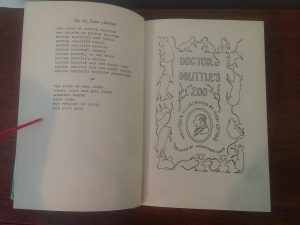 Here are two different mainstream Synopses of the  book:
1. The adventures of a kind-hearted doctor, who is fond of animals and understands their language. Seeing that many of his animal friends want to live with him, Dr. Dolittle changes his zoo collection from rather unusual animals to native ones and immediately runs into trouble.
2. In the book, Doctor Dolittle returns from his voyages and sets his house in order. This includes expanding his zoo to include a home for crossbred dogs and a club for rodents. The doctor also takes time to solve a mystery with the aid of Kling, the Dog Detective
I also have posted 2 other books from this Hugh Lofting collection:
1928 First edition of Doctor Dolittle in the Moon, by Hugh Lofting 
1927 Eighth Impression of Doctor Dolittle's Garden by Hugh Lofting
---
We want to be your favorite collectible book online bookstore, so we do some looking around at what we think could be a fantastic deal on the book we are posting or something pretty great related to that author.
We were not able to find anyone else selling this 1966 copy of Doctor Dolittle's Zoo.  However, we did find a 1925 First Edition Copy of Doctor Dolittle's Zoo we think you might want to check out because of the price and the good condition it appears to be in, although there is some notable damage along the bottom of the front cover. We do not know any of the seller's we make referrals to so we cannot be accountable for anything related to a purchase.  Our recommendation is based on what we can see and assume from their listing.
1.Click HERE to view the listing we are referring to above. It is a 1925 First Edition Copy of Doctor Dolittle's Zoo, selling for $150 US on Ebay
* This seller may have changed their price, sold or taken the ad down since we posted this, but we update our suggestions at least every month if our copy has not sold.
2. Here is a link to everyone selling Collective copies  Doctor Dolittle's Zoo on Amazon.
---
Please follow and like us: