Description
SOLD
Beautiful 1870's circa, Antique copy of Arabian Nights, "being the tales told by Scheherazade, the Sultana, to Schatriar, Sultan of the Indies".  This book is nearly 150 years old.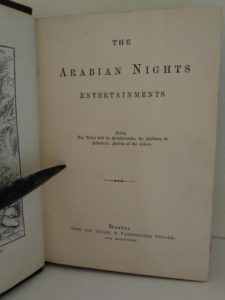 This book is undated. On the page adjacent to the table of contents states "Printed and bound by Gall and Inglis. There is also the address of London, Gall and Inglis, 25 Paternoster Square on the title page.
There is not any information open to the world wide web on this particular publishing company other than traces of other things published by them throughout the 1800's and very early 1900's. If you are privy to a University database search this would likely uncover much more information on this particular publishing company.
The best bit of information I could gather was other books published by Galls and Inglis under the "Lorne Series" which this book is part of. They were all printed in 1870, so this is also likely the publishing date of this particular book.
I was able to find a little bit of information about the son of the creator of Gall and Inglis. His name was James Gall (1808- 1895) and he was a Scottish clergyman who founded the Carrubbers Close Mission. He was known for writing on "religious matters, often from a rather unorthodox standpoint" and he had an interest in astronomy. His father, James Gall snr, formed the printing company of Gall & Inglis in Edinburgh, which specialized in "easy-access astronomy". James Gall worked with his father until he changed career and joined the ministry, becoming the first minister of the Moray Knox Church in Edinburgh. This doesn't give a specific clue as to the printing of this book but certainly adds some extra reference.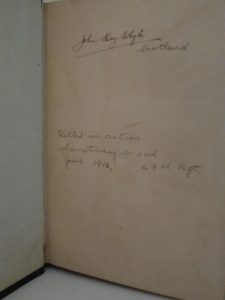 There is a very interesting annotation on the inside endpaper of this book which reads, "Killed in action, Sanctuary Wood, June 1916, 49 Regt." It is signed a few inches above with the name John Hay Whyte, Scotland.
This book is in remarkably good condition. All the pages are tightly bound and there are no seam issues. There is some bumping wear to bottom corner of front binding which would be the only main notable wear. Front cover has bright colours and gold gilt lettering, it is a very handsome book. 492 pages. Would make a lovely gift for any book collector!