Description
Soldiers Three by Rudyard Kipling.  Undated, deduced to be published 1902. Hurst & Company Publishers.   Rare beautiful printing of this book.
Bound in an attractive panel with gold gilt blindstamp on title and title on binding and gold gilt top edge textblock.  All 144 pages are secure to hinge, there is a full seam split (see image in gallery area for example of this) at page 96.   Bumping to top and bottom corners of front and back panel and a crease to lower right front panel (See image in gallery area).   Pocketsize copy.   Ephemera found inside, a Vintage postcard from Italy.  A perfect gift idea for any Rudyard Kipling collector!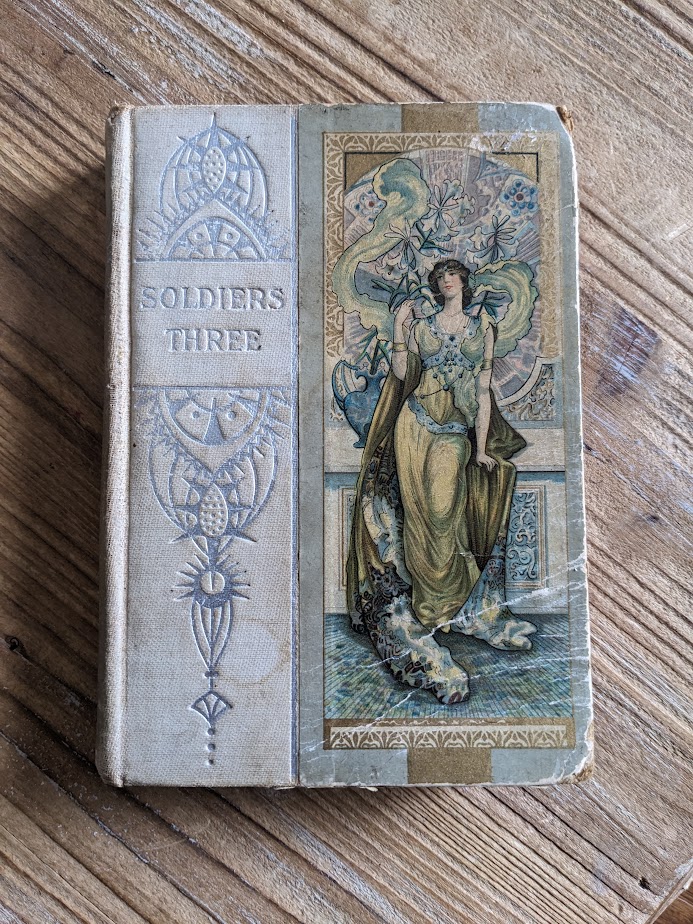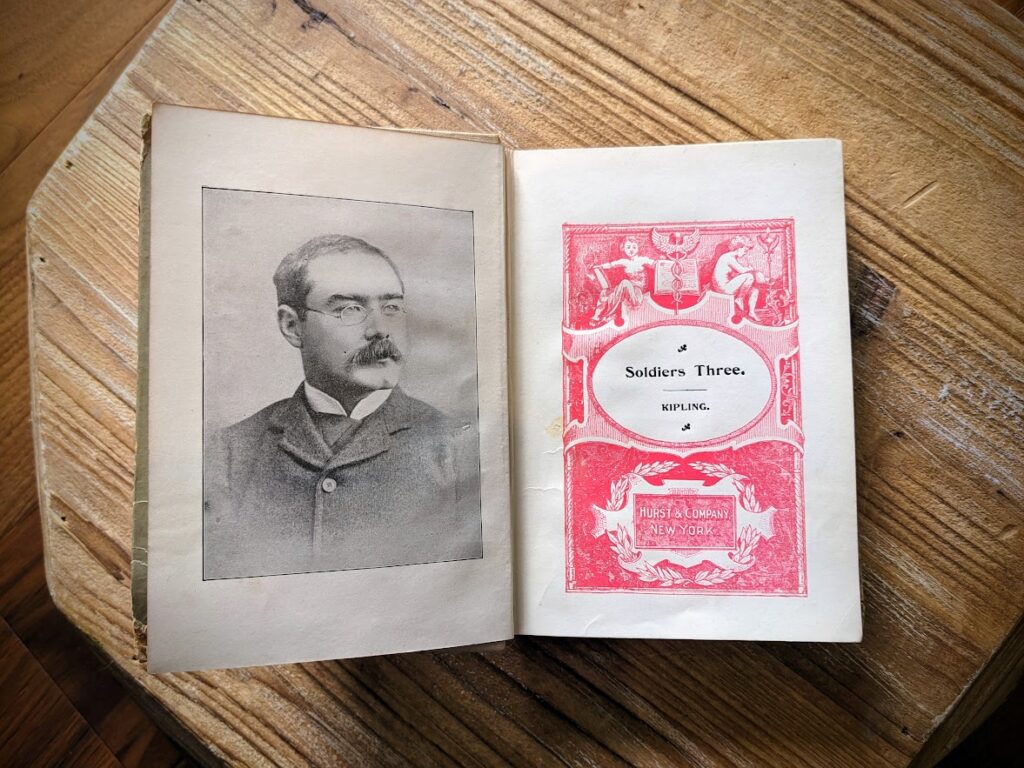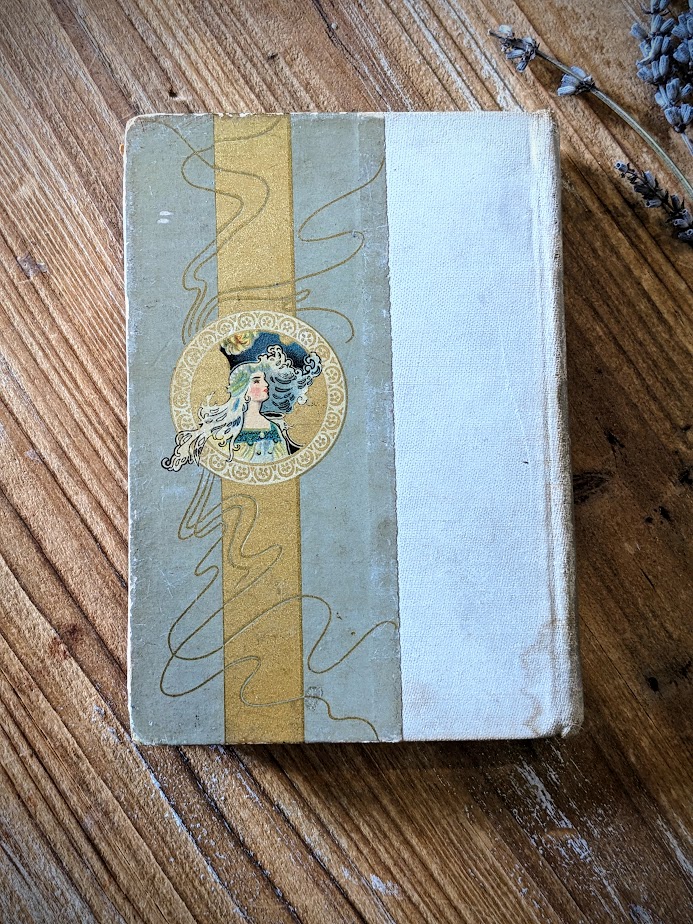 Book Synopsis:

"Soldiers Three" is a collection of short stories written by Rudyard Kipling, first published in 1890. The book is set in British India during the late 19th century and revolves around the adventures and misadventures of three British soldiers: Mulvaney, Learoyd, and Ortheris, who are members of the fictional Irish regiment, the "Fore and Aft."
The stories in "Soldiers Three" are humorous and often depict the camaraderie, escapades, and foibles of these three soldiers as they navigate the challenges and idiosyncrasies of life in the British Army in India. They engage in various escapades, from dealing with local culture and customs to getting into trouble with their superiors. The stories also offer insights into the complex relationships between the British soldiers and the local Indian population.
Kipling's writing in "Soldiers Three" captures the spirit of the time and provides a vivid portrayal of the British military presence in India during the colonial era. The book blends humor, adventure, and a touch of satire, making it an engaging and entertaining read for those interested in the history and culture of British India.
About the author
Joseph Rudyard Kipling was a journalist, short-story writer, poet, and novelist.

Kipling's works of fiction include The Jungle Book (1894), Kim (1901), and many short stories, including The Man Who Would Be King (1888). His poems include Mandalay (1890), Gunga Din (1890), The Gods of the Copybook Headings (1919), The White Man's Burden (1899), and If— (1910). He is regarded as a major innovator in the art of the short story; his children's books are classics of children's literature; and one critic described his work as exhibiting "a versatile and luminous narrative gift".
Kipling was one of the most popular writers in the United Kingdom, in both prose and verse, in the late 19th and early 20th centuries. Henry James said: "Kipling strikes me personally as the most complete man of genius (as distinct from fine intelligence) that I have ever known." In 1907, at the age of 41, he was awarded the Nobel Prize in Literature, making him the first English-language writer to receive the prize, and its youngest recipient to date. He was also sounded out for the British Poet Laureateship and on several occasions for a knighthood, both of which he declined.
Awarded the Nobel Prize in Literature in 1907 "in consideration of the power of observation, originality of imagination, virility of ideas and remarkable talent for narration which characterize the creations of this world-famous author."
~See all of the pictures posted in the Gallery Area of this posting!~
~ Price posted is in (CAD) Canadian Dollars ~