Description
Poo-Poo and the Dragons by C.S. Forester (illus. by Robert Lawson).  Published in 1963 by Michael LTD, London.  First Edition, 4th impression. "Reproduced from printed copy and printed offset litho by The Hollen Street Press, London, and bound by James Burn"

C.S. Forester made his reputation with his famous 'Hornblower' series set in the Napoleonic wars. His charming 'Poo-Poo and the Dragons' is Forester's only fictional book for children and quite rare.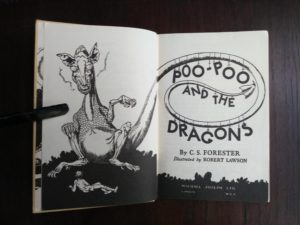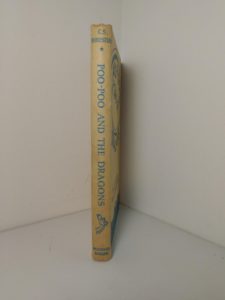 This is a book that simultaneously amuses parent and child. Ideal bed-time reading. and the illustrations by Robert Lawson are also excellent.
Slight bumping to corners, all pages secure. Of the few dozen illustrations there is one page that is colored on, likely a child from a previous owner (see picture attached for example of this). There is also a slight separation of the back cloth board along binding seam.
A little more background on this book:

It was published in 1942, before the war impacted book production. Forester came up with the premise for the book while he was at home in the Berkeley hills, minding his two boys while his wife Kathleen was away. The younger of the two, 8 year old George, went on a hunger strike; he refused to eat. Forester made up the stories to tell during dinnertime, but would only tell them if George would eat. If George stopped eating, Forester stopped talking mid-sentence. By the time Kathleeen returned home and everything returned to normal, there were a number of Poo-Poo stories, and 3 dragons.
Here is a link to other First Edition, early printings of Poo Poo and the Dragons on Amazon from other sellers.
~See all of the pictures posted in the Gallery Area of this posting!~
~ Price posted is in (CAD) Canadian Dollars ~