Description
SOLD

Crusades In Europe by Dwight D. Eisenhower.  Published in 1948 by Doubleday & Company, Inc. First Edition. 
Light brown cloth over boards with black and gilt lettering on the spine and on the front panel.  Textblock edge pages are deckled.  Mapped front pastedown and endpaper. Slight water mark on the upper top corner of the front panel (see the picture in the gallery area of a front panel view for an example of this), and illustrations and maps throughout are bright and clean. Includes six color maps and 38 b&w maps, and six photographic illustrations selected by Edward Steichen as well as Eisenhower's famous D-Day order to his troops about to storm the beaches at Normandy.  All 559 pages, including the index, are mark free and secure to the spine.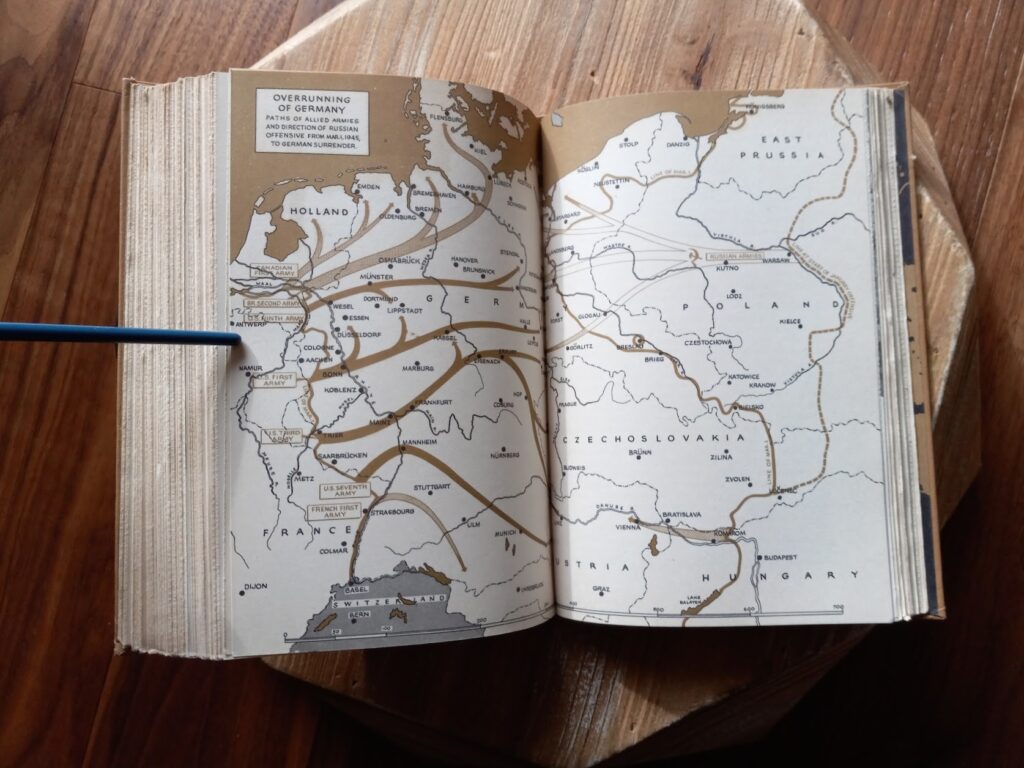 Review from Goodreads:
Five-star General Dwight D. Eisenhower was arguably the single most important military figure of World War II. For many historians, his memoirs of this eventful period of U.S. history have become the single most important record of the war. Crusade in Europe tells the complete story of the war as Eisenhower planned and lived it. Through his eyes, the enormous scope and drama of the war—strategy, battles, moments of fateful decision—become fully illuminated in all their fateful glory.
Yet this is also a warm and richly human account. Ike recalls the long months of waiting, planning, and working toward victory in Europe. His personal record of the tense first hours after he had issued the order to attack—and there was no turning back—leaves no doubt of Eisenhower's travail and reveals this great man in ways that no biographer has ever surpassed.
About the Author: 
Dwight David Eisenhower, born David Dwight Eisenhower, nicknamed "Ike", was a General of the Army (five-star general) in the United States Army and U.S. politician, who served as the thirty-fourth President of the United States (1953 – 1961). During the Second World War, he served as Supreme Commander of the Allied forces in Europe, with responsibility for planning and supervising the successful invasion of France and Germany in 1944-45. In 1951, he became the first supreme commander of NATO.
As President, he oversaw the cease-fire of the Korean War, kept up the pressure on the Soviet Union during the Cold War, made nuclear weapons a higher defense priority, launched the Space Race, enlarged the Social Security program, and began the Interstate Highway System.
~See all of the pictures posted in the Gallery Area of this posting!~
~ Price posted is in (CAD) Canadian Dollars ~

Please call or Email: admin@ashtreebooks.com for your best-customized shipping options