Description
-SOLD-
A lovely clean and tight "Golden Anniversary" 1960 copy of The Wind in the Willows. By Kenneth Grahame. Published by Charles Scribner's Sons.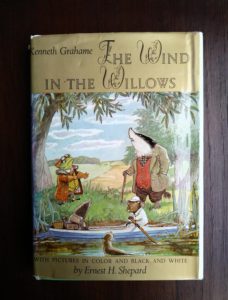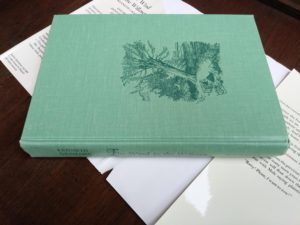 This lovely hardcover, with the classic green cloth which resembles the first edition copy, is the Golden Anniversary Edition. What makes this special is that along with all the beloved known illustrations by Ernest H. Shepard from previous printings there are 8 new full watercolour pictures by him included in this anniversary edition. (Same illustrator as Winnie the Pooh).
The book is also slightly oversized which is special for this golden edition.
This is a timeless tale of the fellowship of Rat and Mole and Mr. Toad, it's enduring quality brought to life with magnificent illustrations! Great book to add to any collection 

Some creases in the spine area on dust jacket but there are not any rips or tears and colours are still bright. Book itself is in Very Good condition.
Book description (fromgoodreads):
Meet little Mole, willful Ratty, Badger the perennial bachelor, and petulant Toad. Over one hundred years since their first appearance in 1908, they've become emblematic archetypes of eccentricity, folly, and friendship. And their misadventures-in gypsy caravans, stolen sports cars, and their Wild Wood-continue to capture readers' imaginations and warm their hearts long after they grow up. Begun as a series of letters from Kenneth Grahame to his son, The Wind in the Willows is a timeless tale of animal cunning and human camaraderie.
~See all of the pictures posted in the Gallery Area of this posting!~
~ Price posted is in (CAD) Canadian Dollars ~