Description
~ SOLD ~
Anatomy of a Murder, by Traver, Robert. 
Published by St. Martin's Press, 1958, 1st Ed.
This first edition copy had been printed a handful of times throughout 1958. With this particular book, it would list on the copyright page (on the backside of the title page) if you have a subsequent printing, which is more widespread than the first. In this case, we have the 1st printing. There was a relatively small run of the first print of this book, which makes it all the more collectible. 437 pages.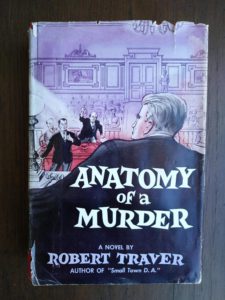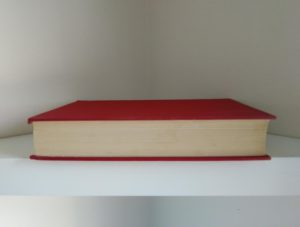 Condition: Some discoloration to the top crown of spine and tail of spine, and slight yellowing to pages along bottom text block. I would assume from exposure to something wet, although the inside pages are not affected and in perfect shape. The dust jacket (which is the original) is roughed up and appears to have had a spill of some sort due to some yellowing to inside spine area. If there was a spill on the book it was dealt with immediately as the book itself is in Good condition. See all the pictures provided as I listed as many as I could to show the exact condition of the book.
The movie was filmed in 1959 by Otto Preminger and was unusually explicit in its treatment of sex and rape, especially for the 1950s. The film starred James Stewart, Lee Remick, Ben Gazzara, Eve Arden, and George C. Scott, among others. Although the movie received seven Academy Award nominations, it received none, probably due to its shocking character. Major Richard J. Daley banned showing of the film in Chicago, but was overruled by a Federal court.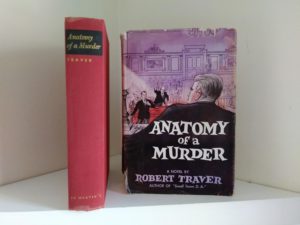 A popular book for many lawyers and law students to hold a copy of on their shelves!
~See all of the pictures posted in the Gallery Area of this posting!~
~ Price posted is in (CAD) Canadian Dollars ~