Description
SOLD
14 Nancy Drew Mystery Stories by Carolyn Keene.  Published between 1959 – 1970 by Grosset & Dunlap publishers. 
The books vary from in fair to good shape. No pages are missing. Some have writing in the book. Number 22 The clue in the Crumbling Wall has some water damage to front panel and markings from this on first 40 pages.  Book number 2 The Hidden Staircase has writing on the front of the front panel.  There are images included for both these examples in the gallery area.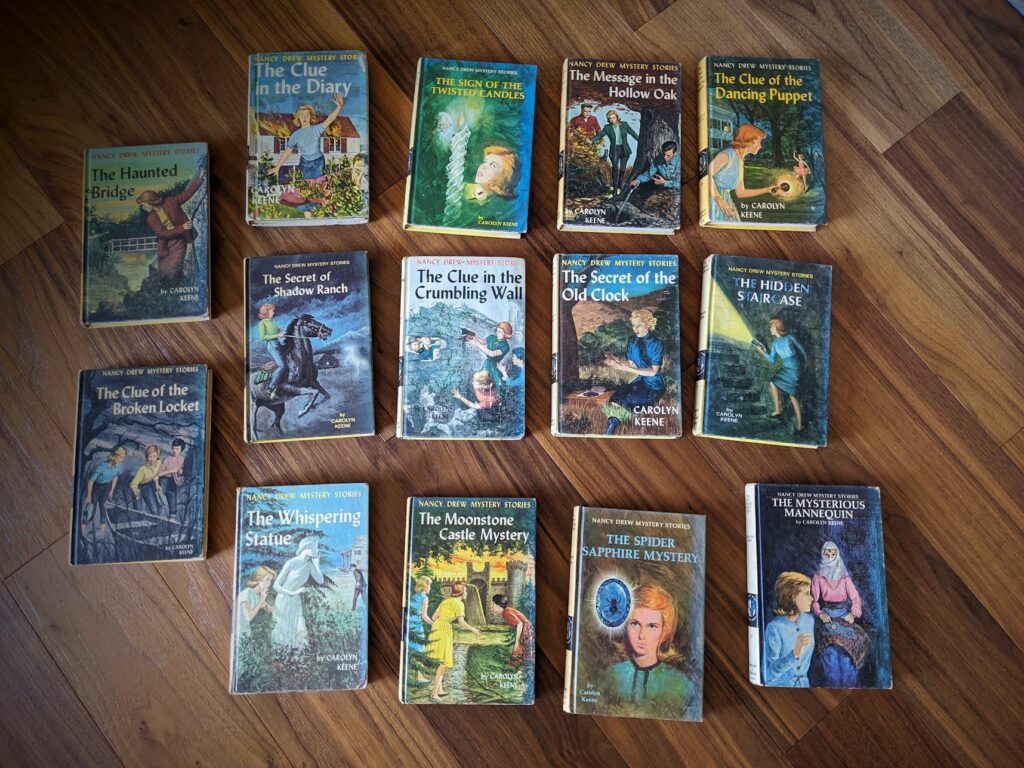 Synopsis of the Nancy Drew Mystery Stories Set:
The Nancy Drew Mystery Stories by Carolyn Keene is a beloved series of children's books that follows the adventures of a young detective named Nancy Drew. This particular lot, published between 1959 and 1970 by Grosset & Dunlap publishers, consists of 14 books of a larger set that have captivated readers for decades.
Nancy Drew, the main character, is a smart, resourceful, and courageous teenager with a knack for solving mysteries. Each book in the series presents Nancy with a new intriguing case to unravel, often involving crimes, secrets, and puzzling circumstances. With her sharp mind and keen observation skills, Nancy Drew delves into the mysteries, uncovering clues, deciphering codes, and piecing together information to solve each case.
Throughout the series, Nancy encounters a wide range of mysteries, including missing persons, stolen treasures, suspicious accidents, haunted houses, and more. She often finds herself in thrilling and dangerous situations, but her determination and quick thinking always lead her to the truth.
Nancy is accompanied by her close friends Bess Marvin and George Fayne, who offer their assistance and support in her investigations. Together, they navigate the twists and turns of each mystery, unraveling secrets and exposing culprits.
The Nancy Drew Mystery Stories have entertained generations of readers with their intriguing plots, well-crafted characters, and exciting adventures. The books offer a blend of mystery, suspense, and problem-solving that engage young readers and keep them eagerly turning the pages.
They can be a valuable and nostalgic addition to any book collection or a delightful gift for fans of the series.
~See all of the pictures posted in the Gallery Area of this posting!~
~ Price posted is in (CAD) Canadian Dollars ~