Description
SOLD 
Early 1929 Copy of Bambi by Felix Salten, published by Grosset & Dunlap ('by arrangement with Simon and Schuster, Inc.')
Beautiful illustrations throughout this book by Kurt Wiese.
The very first American Edition (First ever English printing) was published by Simon and Schuster just one year prior. (I also have one of these First American Editions for sale if you wish to inquire: 1928 'First Printing in America' of Bambi, A Life in the Woods)

In 1929 Schuster sold publishing rights to various publishing companies who used the same front blindstamp and illustrations by Kurt Wiese. So on all 1929 copies of Bambi, you will see this front cover but it may be one of a handful of different publishing companies who printed it, in this case, Grosset & Dunlap. This is a second impression of the First ever English Edition of Bambi. This copy is in Good Condition with all pages tight and secure to hinge. All 293 pages are clean other than a previous owner's gift annotation inside front pastedown and endpaper.
Bambi, a Life in the Woods, originally published in Austria as Bambi: Eine Lebensgeschichte aus dem Walde is a 1923 Austrian novel written by Felix Salten and published by Ullstein Verlag. The novel traces the life of Bambi, a male roe deer, from his birth through childhood, the loss of his mother, the finding of a mate, the lessons he learns from his father and experience about the dangers posed by human hunters in the forest.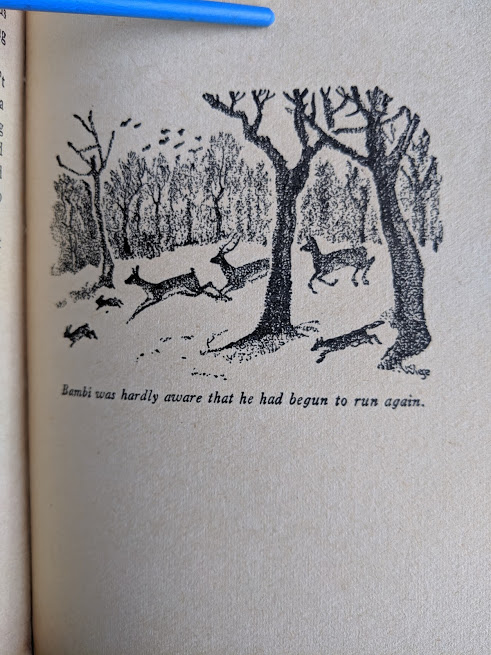 The Story of Bambi:
The death of Bambi's mother is many children's first encounter with death. But the history of the book that inspired the film is even darker story than the story it tells.
Born Siegmund Salzmann, Bambi author Felix Salten was brought to Vienna as an infant in 1869, shortly after the government allowed Jews citizenship. Already a prolific writer by the time he published Bambi in 1923, Salten achieved international renown with the novel's English translation. In 1936, however, Bambi was banned by the ruling Nazi party because of its "political allegory on the treatment of Jews in Europe." Burnings of the book were organized across Nazi states.
So many of this exact copy would have been burned.
As anti-Jewish sentiment increased, Salten moved from Austria to Switzerland, where he wrote a sequel, Bambi's Children. Meanwhile, one of Bambi's fans, publishing magnate Max Schuster, introduced Salten to Walt Disney, who was taken with the book and wanted to adapt it. Bambi, the film, was released in 1942. And the rest—as they say in Hollywood—is history.
~See all of the pictures posted in the Gallery Area of this posting!~
~ Price posted is in (CAD) Canadian Dollars ~