Description
~SOLD~
1937 copy of The Birds of America by John James Audubon with an introduction and descriptive text by William Vogt.  This is a First Edition published by The Macmillan Company.
Green Cloth Hardcover book measures approx. 12 3/4″ x 9 1/4″ x 2″ thick, with gold gilt on the cover and spine. Weight approx. 6 1/2 pounds.
The overall condition of this book is Good. All pages are tight and secure. 500 spectacular Colour Plates. This book also comes with some Ephemera left behind from a previous owner.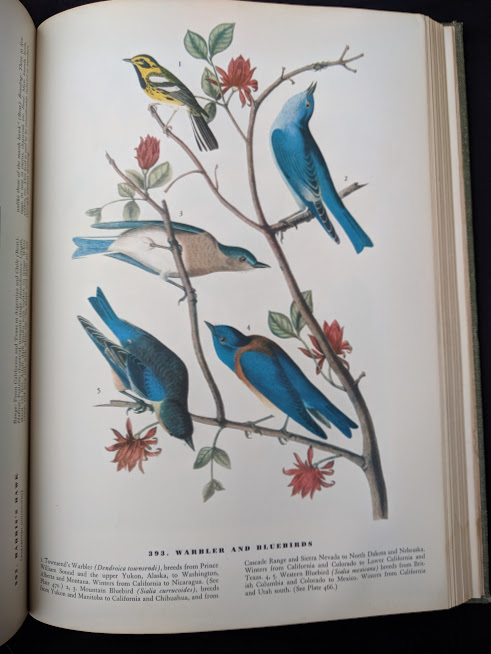 Written by naturalist John James Audubon, the Birds of America is one of the most prized and collected books of all time. In addition to the stunning colours and detail in Audubon's work, it is noteworthy also because of its ambitious scope: to paint every bird in North America. Six of the birds painted have become extinct since its publication.
First edition identification and notes:
This is the first edition of this release by Macmillan. Originally published as a series of 425 loose hand-coloured watercolour prints roughly 26 by 39 inches between 1827 and 1838, the Birds of America was collected in a five-volume folio edition in 1838 (called the Harvell Edition). Subsequent editions were issued at a more affordable price in multi-volume octavo editions. One hundred twenty copies of the first edition are known to have survived complete, most now residing in institutions and libraries.
~See all of the pictures posted in the Gallery Area of this posting!~
~ Price posted is in (CAD) Canadian Dollars ~