Description
Parables from nature by Margaret Gatty. First and Second series. With a memoir by her daughter Juliana Horatia Ewing. First Edition of the 2 Series in 1 Volume Set. Published by George Bell & Sons, London 1888.  (The original publishers of Margaret Gatty's works).
Beautiful Maroon Coloured leather-bound copy in spectacular shape given its age. No inscriptions. Bright elaborate gilt work title on upper front cover and spine. Golden Gilt Textblock is still bright and untarnished. Some wear to the headband and foot of spine and some bumping to corners. The most notable imperfection is that the front endpaper has been torn out (see a picture included in the gallery area of this posting for an example of this). Overall this book is in Good Condition. Pages are all secure and the front and back hinge is sound.
A little about the Author:
Sometimes published as Margaret Gatty, Margaret Scott Gatty.
Born in 1809 in Burnham on Crouch, Essex, Margaret Scott was the daughter of the Rev. Alexander John Scott, D.D., a naval chaplain who served with Lord Nelson during the Battle of Trafalgar. She married the Rev. Alfred Gatty, a Church of England vicar, and an author, in 1839. Some of their children also published as authors: noted children's author Juliana Horatia Ewing; Juliana's biographer Horatia K.F. Gatty; composer and officer of arms Sir Alfred Scott-Gatty; historian Charles Tindal Gatty.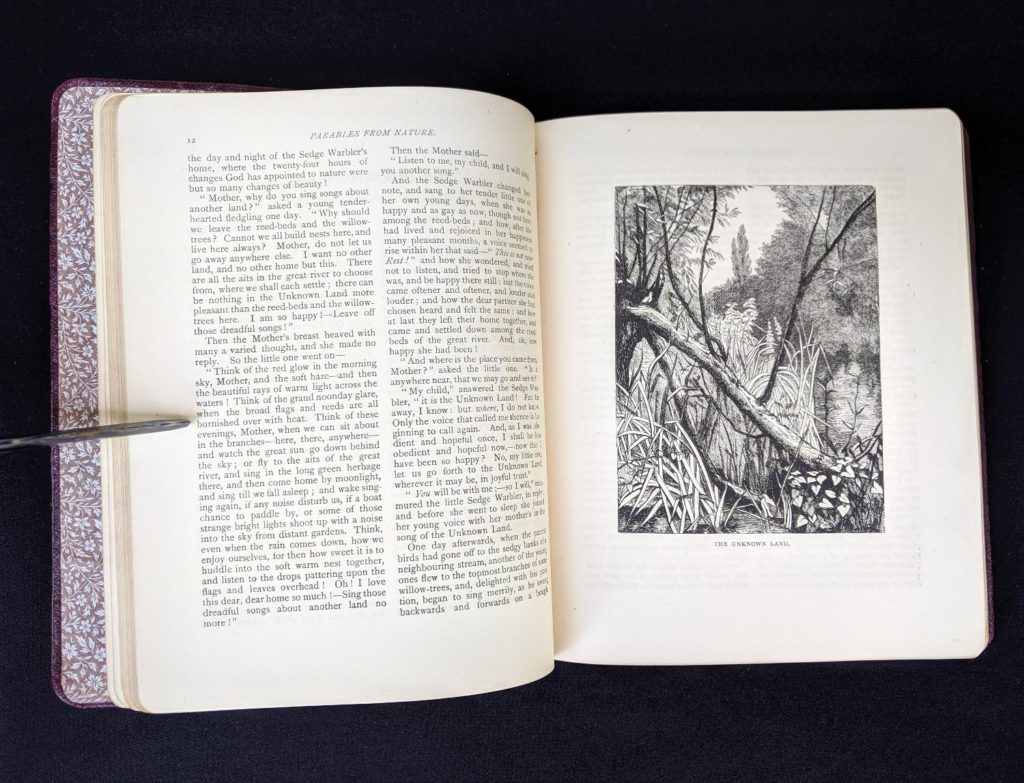 You may also want to check out this book posting (a book written by Margaret Gatty's daughter):



~See all of the pictures posted in the Gallery Area of this posting!~ 
~ Price posted is in (CAD) Canadian Dollars ~