Description
SOLD

A Prairie Chief: A Tale.  By R.M (Robert Michael), 1825-1894.  First Edition.   Published in 1886 in London by James Nisbet & Co.  With illustrations. 
This book is in delicate condition with a full seam separation inside the book and a full cloth cover split along one edge of the binding.  (pictures provided in the gallery area for example of this).  Other than the front endpaper adjacent to the front pastedown missing, all pages are present, although pages 17 – 112 are completely separated and so just resting in its proper place within the book. Not a common copy.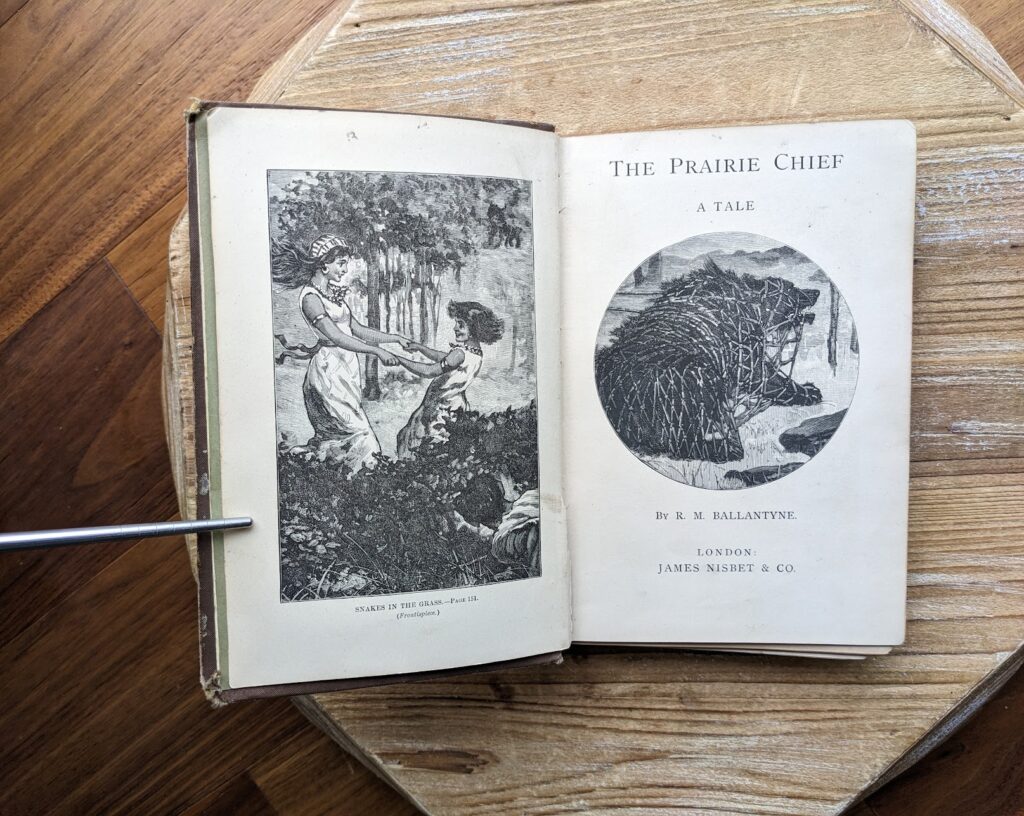 Excerpt from the book:



"Skipping Rabbit is the daughter of Bounding Bull." Then, observing another gleam of surprise and triumph on the chief's face, she added quickly, "and the Blackfoot knows that Bounding Bull and his tribe are very strong, very courageous, and very revengeful. If Moonlight and Skipping Rabbit are not sent home at once, there will be war on the mountains and the plains, for Whitewing, the great chief of the prairies, is just now in the camp of Bounding Bull with his men. Little Tim, as you know, is terrible when his wrath is roused.



About the Author:
R. M. Ballantyne was a Scottish writer of juvenile fiction.
Born Robert Michael Ballantyne in Edinburgh, he was part of a famous family of printers and publishers. At the age of 16 he went to Canada and where he served for six years with the Hudson's Bay Company. He returned to Scotland in 1847, and published his first book the following year, Hudson's Bay: or Life in the Wilds of North America. For some time he was employed by Messrs Constable, the publishers, but in 1856 he gave up business for literature, and began the series of adventure stories for the young with which his name is popularly associated.
~See all of the pictures posted in the Gallery Area of this posting!~
~ Price posted is in (CAD) Canadian Dollars ~


Please call or Email: admin@ashtreebooks.com for your best-customized shipping options