Description
-SOLD-
1870 German copy of Heinrich Heine's Sämtliche Werke.  Published by Berlag von Gchafer & Roradi in 1870.
Leather spine.  Front end paper loose, all other pages secure to hinge.   448 pages. Spine bands and panel edges and marbled frontcover somewhat rubbed and dust-toned as with age.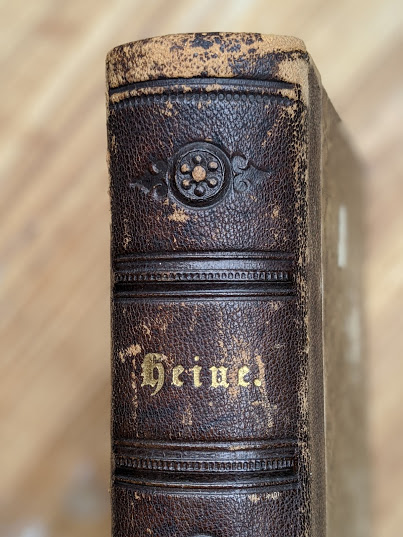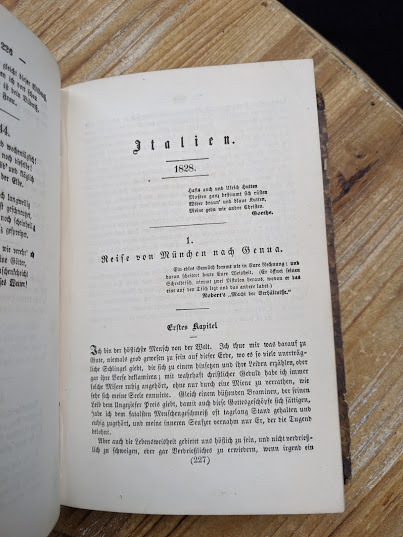 About the Author:
Christian Johann Heinrich Heine was a German poet, writer and literary critic. He is best known outside Germany for his early lyric poetry, which was set to music in the form of lieder by composers such as Robert Schumann and Franz Schubert.
Heinrich Heine/Quotes:
Sleep is good, death is better; but of course, the best thing would to have been to have never been born at all. 
When words leave off, music begins.
One should forgive one's enemies, but not before they are hanged.
Of course God will forgive me; that's His job.
Experience is a good school.  But the fees are high.
Where they have burned books, they will end in burning human beings.
People in those old times had convictions; we moderns only have opinions.  And it needs more than a mere opinion to erect a Gothic cathedral.
The stones here speak to me, and I know their mute language. Also, they seem deeply to feel what I think. So a broken column of the old Roman times, an old tower of Lombardy, a weather-beaten Gothic piece of a pillar understands me well. But I am a ruin myself, wandering among ruins.
The more I get to know people, the more I like dogs.
~See all of the pictures posted in the Gallery Area of this posting!~
~ Price posted is in (CAD) Canadian Dollars ~