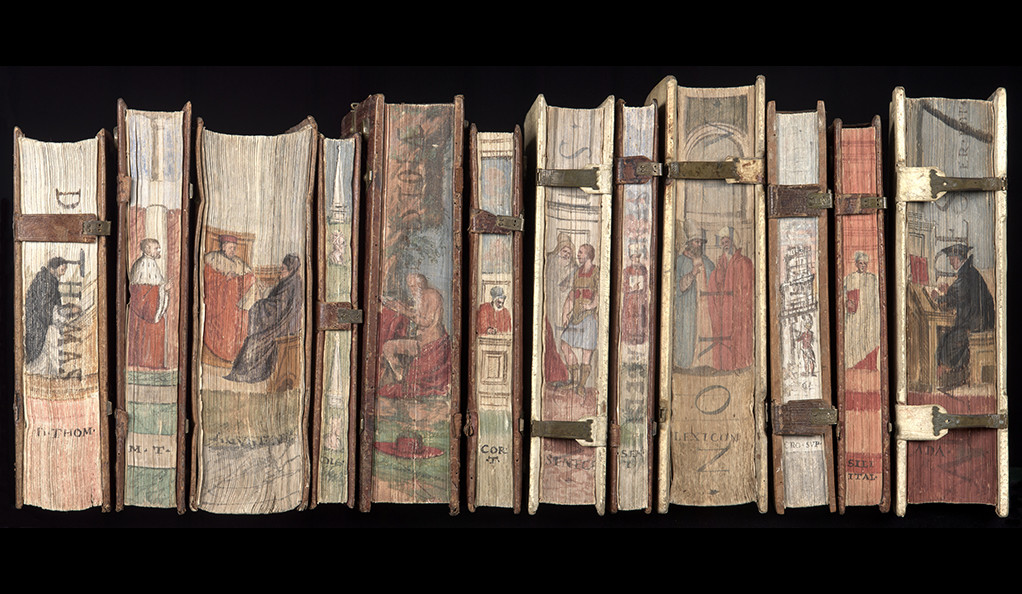 Here is a picture of Painted Renaissance volumes currently on view at Yale's Beinecke Library now, through until April 21.
A dozen volumes on display at Yale's Beinecke Rare Book and Manuscript Library are shelved side-by-side with their fore edges, not their spines, facing out. It is not a case of curatorial malpractice — far from it. Those exposed fore edges form a gallery of miniature paintings from the Renaissance era — portraits of the volumes' celebrated authors or scenes that suggest their subject matter.
The books were part of a lavish library that belonged to the Pillone family, who owned a large estate in Belluno, Italy, north of Venice. In the 1580s, Odorico Pillone, a prominent jurist, commissioned the artist Cesare Vecellio, a distant cousin of the Renaissance master Titian, to decorate a selection of the family's books. Vecellio painted the fore edges of 172 volumes — all printed books — that included works by leading lights of classical thought, Christian theology, and Renaissance humanism.
The Pillone volumes are featured in "Bibliomania; or Book Madness: A Bibliographical Romance," an exhibition on view at the library through April 21. The show traces the obsessions and exploits of book lovers over the centuries through four case studies, including the story of the Pillone library.
The portraits of the volumes' celebrated the authors or are scenes that suggest their subject matter.

To read the full original article posted by Yale News visit this link :
https://news.yale.edu/2019/03/14/painted-renaissance-volumes-view-yales-beinecke-library?fbclid=IwAR3VAXnTd7L1LYpzP2ecEYIZeAJh4QG79gMESPSZnphUoNi4E0FMhhhA_C4
Here is a video with Andrew S. Brown on the Fore-Edge Paintings in Bibliomania at the Beinecke Library: