Description
                                                    ~ SOLD ~
The Golden Story Book, by various Authors and over 200 illustrations by well-known artists. Printed in Great Britain by Collins Clear-Type Press, Undated. First Edition.  
This book is in Pristine Condition. There are no seam issues, corners of text block and fore edge of the binding is sharp without any bumping wear. All 416 pages are all bent and mark free. The pictures, both black and white and colour plates are fabulous. Have you ever wanted to know the original story of "The Little Mermaid? The original story is in this book and beautifully illustrated!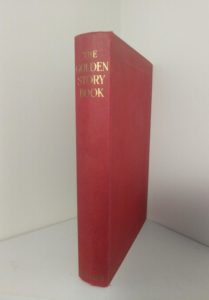 Undated, but one of the plates are dated 1933. 416 pages, containing a large number of stories by well-known writers including Dean Swift, Edward Lear, Lord Tennyson, John Keats, John Bunyan, Washington Irving, Lewis Carroll, Charles Kingsley, Francis Thompson, Robert Louis Stevenson, Jules Verne, etc. Illustrated throughout with B&W drawings by well-known artists, plus an additional 6 pages of fine colour plates by Anne Anderson, Harry Rowntree, D C Eule and others. Illustrated end-papers. All in red cloth binding, embossed on front cover and gold-embossed on spine. Size of the book is large: 4to – over 9¾" – 12″ tall.
See all of the images posted in the gallery area.
~See all of the pictures posted in the Gallery Area of this posting!~
~ Price posted is in (CAD) Canadian Dollars ~