Description
Harry Potter and The Order of the Phoenix, By J.K. Rowling


~SOLD~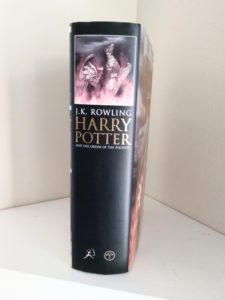 Published Raincoast Books, Vancouver, 2003. First published in Great Britain in 2003 by Bloomsbury Publishing.
This is a stated First Canadian Edition.
Near fine condition. Original dust jacket, unclipped. All 766 pages are clean, tight and unmarked.
Synopsis: 
Harry has a lot on his mind for this, his fifth year at Hogwarts: a Defense Against the Dark Arts teacher with a personality like poisoned honey; a big surprise on the Gryffindor Quidditch team; and the looming terror of the Ordinary Wizarding Level exams. But all these things pale next to the growing threat of He-Who-Must-Not-Be-Named—a threat that neither the magical government nor the authorities at Hogwarts can stop.
As the grasp of darkness tightens, Harry must discover the true depth and strength of his friends, the importance of boundless loyalty, and the shocking price of unbearable sacrifice.
His fate depends on them all.