Description
REPORT OF THE WARREN COMMISSION: The Assassination of President Kennedy.  Copyright by The New York Times, published in 1964 by Bantam Book Inc.  This is NOT a book club edition which has similar front and back panels. Ephemera inside (described below with images).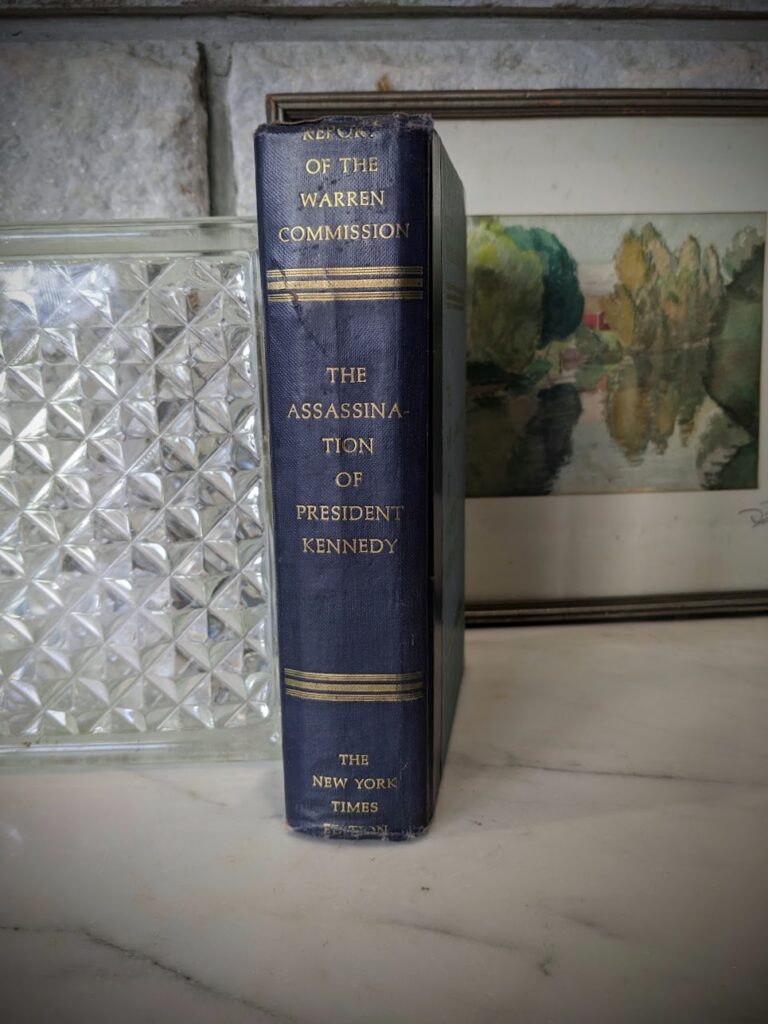 726 Pages secure to hinge with index in rear.  Light Blue Covers With Black Spine; Gild Lettering On Front Cover And Spine. bumping wear to front and back panel edges (see pictures in gallery are for example of this); Pages Tight; no markings on pages. Ephemera found inside; a newspaper clipping from The Vancouver Sun dated March 19th, 1998 of an article entitled "Auction of JFK memorabilia fails to match frenzy of Jackie's" (see ephemera unfolded in gallery area of this posting).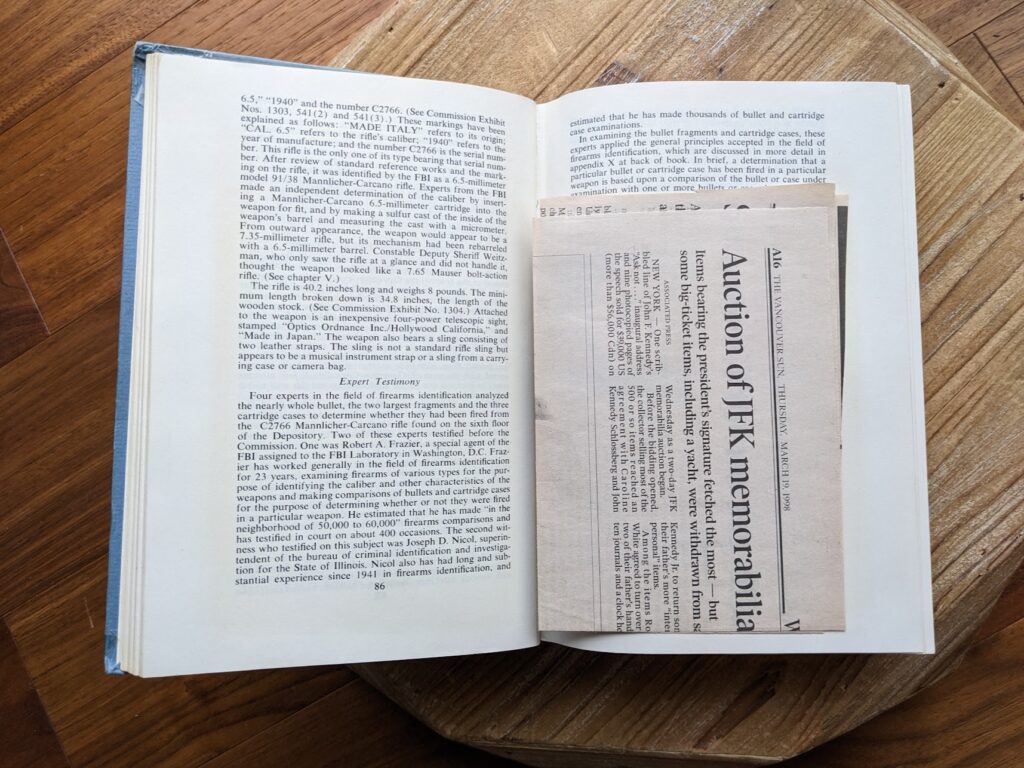 Prologue (Death In Dallas); An Introduction To The Warren Commission Report; On The Release Of The Warren Commission Report In Front Proceeding The Actual Report. Several Pages Of B/W Photos And Exhibits In The Middle Section Of The Book. 17 Sections Of Appendix At Rear Of Book (Includes: Executive Order No 11130; White House Release; Senate Joint Resolution 137; List Of Witnesses; Brief History Of Presidential Protection; Autopsy Report And Supplemental Report; Reports Relating To The Interrogation Of Lee Harvey Oswald At The Dallas Police Department; Biography Of Jack Ruby; Expert Testimony; Interrogation Of Lee Harvey Oswald; Reports Of FBI; Speculations And Rumors; Biography Of Lee Harvey Oswald;Analysis Of Lee Harvey Oswald's Finances; Polygraph Examination Of Jack Ruby, Etc). Chapter Headings Include: A Summary And Conclusions: The Assassination; The Shots From The Texas School Book Depository; The Assassin; Detection And Death Of Oswald; Investigation Of Possible Conspiracy; Lee Harvey Oswald: Background And Possible Motives; Protection Of The President, Etc.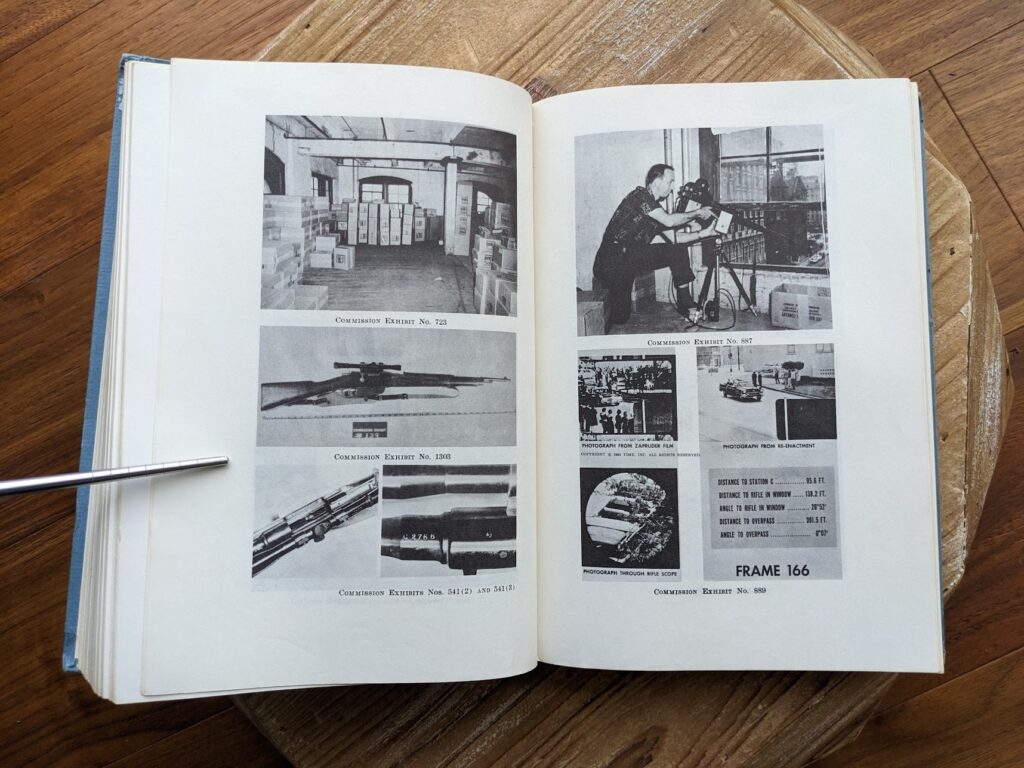 Book Synopsis (from Goodreads):
The President's Commission on the Assassination of President Kennedy, known unofficially as the Warren Commission, was established by President Lyndon B. Johnson on November 29, 1963 to investigate the assassination of United States President John F. Kennedy that had taken place on November 22, 1963. The 88th U.S. Congressional session passed Senate joint resolution 137 authorizing the Presidential appointed Commission to report on the assassination of President John F. Kennedy mandating the attendance and testimony of witnesses and the production of evidence concerning the infraction occurring in Dallas, Texas on November 22, 1963. Its 889-page final report was presented to President Johnson on September 24, 1964 and made public three days later. It concluded that President Kennedy was assassinated by Lee Harvey Oswald and that Oswald acted entirely alone. It also concluded that Jack Ruby also acted alone when he killed Oswald two days later. The Commission's findings have proven controversial and have been both challenged and supported by later studies.
The Commission took its unofficial name—the Warren Commission—from its chairman, Chief Justice Earl Warren. According to published transcripts of Johnson's presidential phone conversations, some major officials were opposed to forming such a commission and several commission members took part only reluctantly. One of their chief reservations was that a commission would ultimately create more controversy than consensus, and those fears proved valid.
~See all of the pictures posted in the Gallery Area of this posting!~
~ Price posted is in (CAD) Canadian Dollars ~


Please call or Email: admin@ashtreebooks.com for your best-customized shipping options
---