Description
SOLD
Story of the Wreck of the Titanic; The Ocean's Greatest Disaster – Memorial Edition.   Copyright 1912 by L.H. Walter. 
First edition (aka, the "Memorial Edition"), first printing.

Edited by Marshall Everett. 320 pages.  Categorized as a Rare copy by ILAB booksellers.



Dark green cloth binding with pictorial cover illustrations and photographs throughout.  Illustrated. Scuffing along edges of covers, patchy surface excoriation and fading to gilt lettering on front cover.  General wear to text block edges a previous owner's name written on front pastedown and endpaper but other than that no other markings throughout entire book. Numerous variations of this title (along with several variant sub-titles) exist, but the Memorial Edition was first and so most sought after Titanic printing, and it wasn't quite ready for publication when it was rushed to market. In a desperate bid to be the first book to capitalize on the tragedy, Nearer my God to Thee was printed just a few months after the disaster.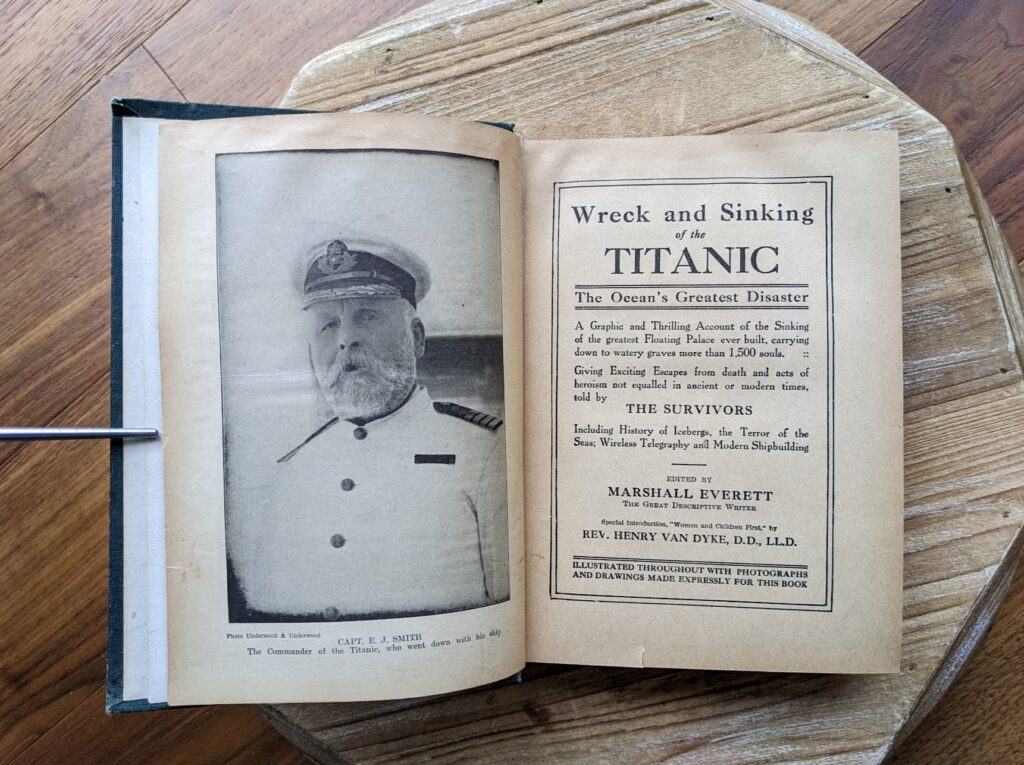 More interesting information on this memorial first edition:
There is no publisher listed on the book's cover, the book's spine or anywhere within the book itself.  Marshall Everett is a pseudonym. It's not known at this juncture who the person behind that name was (or is) but according to the Toronto Star he was probably a journalist. Author Steven Biel who wrote the book, Down With the Old Canoe, said Marshall Everett was probably a "hack journalist."
Because the book was produced quickly and rushed into publication to cash in on the public's appetite for news of the disaster it was stated in the Star article that a number of sources were used and many of those sources were used without attribution. The author of the Toronto Star article, Greg Quill, says, "…it was thrown together by hacks – probably newspaper reporters, pilfering from news dispatches, magazines and other legitimate sources – and rushed into print before the establishment later in 1912 of a universal copyright law protecting writers and original texts." (Quinn, 1998)
Recounts the events of the 1912 disaster, when the ocean liner struck an iceberg on her maiden voyage and sank, killing almost 1600 men, women, and children. Includes the first-hand accounts of many survivors.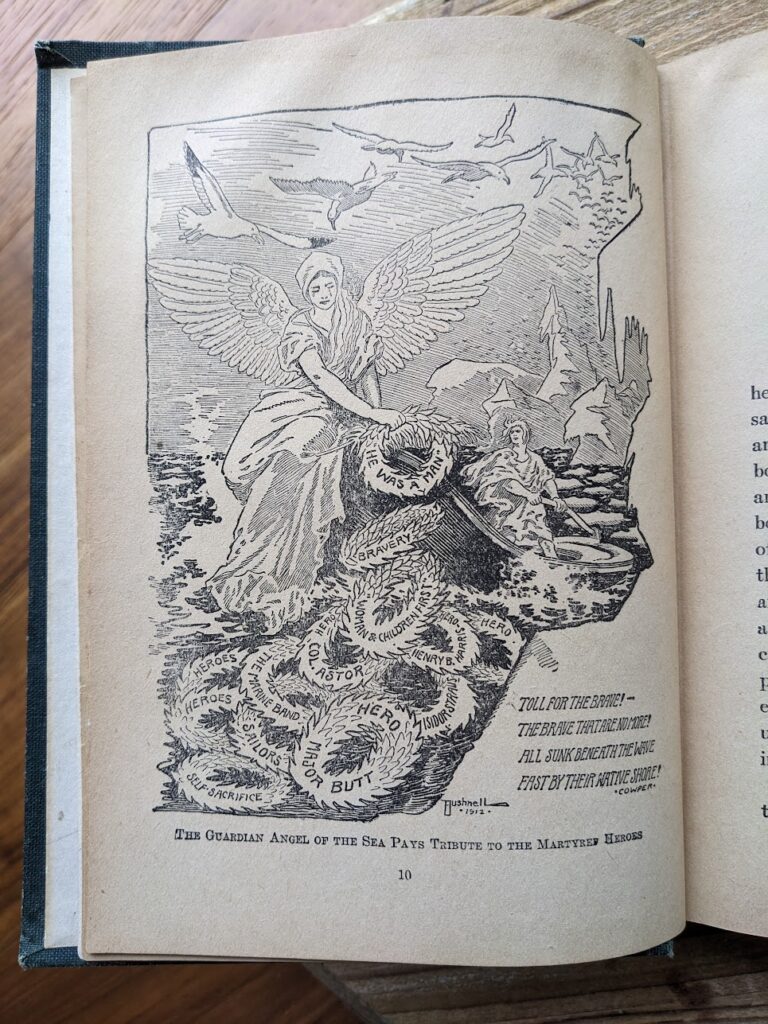 Synopsis (by Goodreads):

In this graphic and thrilling account of the demise of this behemoth of the seas. the tales of her survivors are told with a chilling immediacy that is breathtaking. Illustrated with original drawings and photographs, this book is an historic keynote for all who follow.
~See all of the pictures posted in the Gallery Area of this posting!~
~ Price posted is in (CAD) Canadian Dollars ~


Please call or Email: admin@ashtreebooks.com for your best-customized shipping options