Description
Man-Eaters of Kumaon, Corbett, Jim. Published by New York: Oxford University Press, 1946. First printing of the First American Edition.
Clean and unmarked inside. Bright Orange cloth binding is bright with original dist jacket. Map endpapers. 235pp., glossary, 5 black and white photographs. Introduction by Sir Maurice Hallett. Preface by Lord Linlithgow, Viceroy of India 1936-43. Very Good Condition. 8vo – 8″ – 9″ Tall.

This particular copy came from the Canadian Scottish Regiment, Bay Street Armoury Military book collection in Victoria, BC Canada. It was stored and preserved beautifully, not in typical 'library condition'.
This is Corbett's most famous work, describing his thrilling true adventures hunting the man-eating tigers that terrorized the villages in the Himalayan foothills of India from 1907 to 1938. One of the man-eaters Jim Corbett killed was responsible for over 400 documented deaths. A fascinating collectible book.
Edward James Corbett (1875-1955): was a British hunter, tracker, and conservationist, author and naturalist, who hunted a large number of man-eating tigers and leopards in India. He authored Man-Eaters of Kumaon, Jungle Lore, and other books recounting his hunts and experiences, which enjoyed critical acclaim and commercial success. Later on in life, Corbett became an avid photographer and spoke out for the need to protect India's wildlife from extermination and played a key role in creating a national reserve for the endangered Bengal Tiger by using his influence to persuade the provincial government to establish what was called Hailey National Park. In 1957, the park was renamed Jim Corbett National Park in his honour.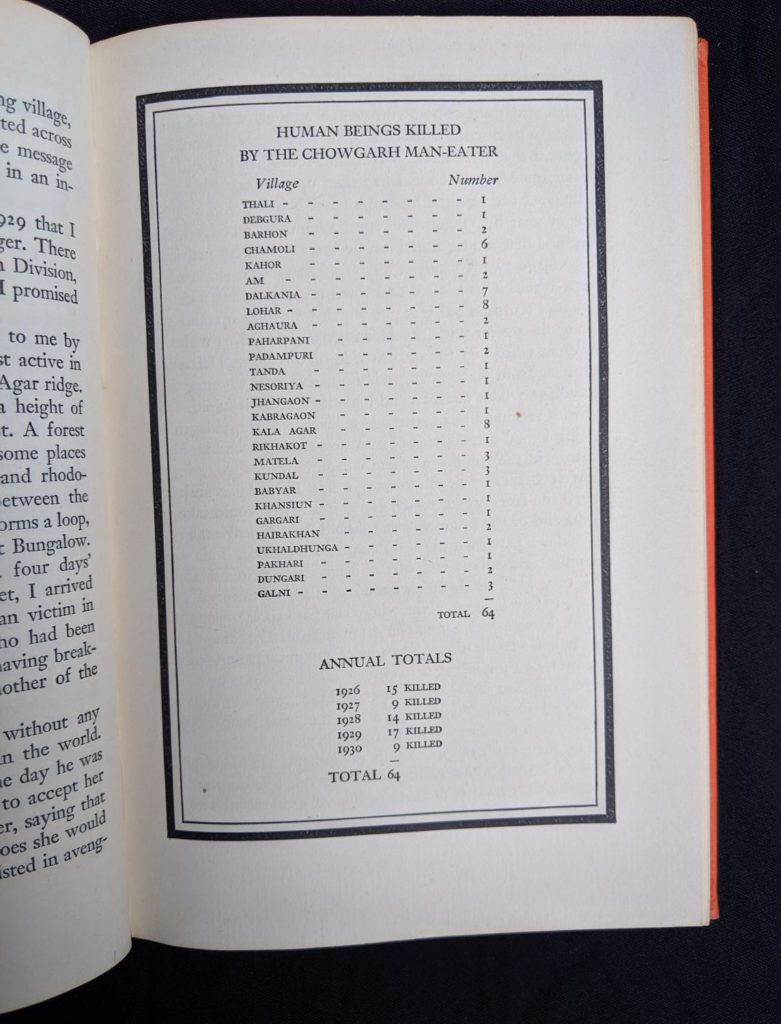 ~See all of the pictures posted in the Gallery Area of this posting!~ 
~ Price posted is in (CAD) Canadian Dollars ~