Description
SOLD

Red Fairy Book by Andrew Lang. Published by Longmans, Green and Co. Ltd in 1954, it is a second edition.

(originally published in 1950). Illustrations throughout by Marc Simont.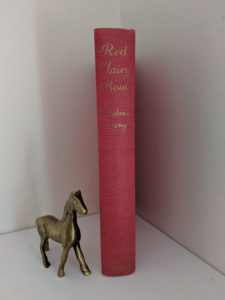 Not a common book to find. All 364 pages are secure and tight to hinge. This copy is in A + Condition
Quick Synopsis:
37 tales including Grimms The Three Dwarfs, Mother Hole, The Golden Goose. Also Rapunzel, Jack and the Beanstalk, the Ratcatcher (the Pied Piper), Snowdrop (Snow White), The Voice of Death, The Enchanted Pig, The Master Thief, from France, Russia, Denmark, Romania, and Norse Sigurd and Brynhild.
~See all of the pictures posted in the Gallery Area of this posting!~
~ Price posted is in (CAD) Canadian Dollars ~