Description
SOLD
The Flying Carpet by Richard Halliburton.  Published in 1932 by Garden City Publishing Company, Inc.  First Edition
Binding is in near good condition, black cloth panel cover is still vivid with silver blind stamp.  Contents clean. 352 pages. Black and white pictures throughout. All pages are secure to hinge.  There is a full seam split between the front free paper and the Title Page. Contains many black and white plates. Halliburton hired a pilot to take him around the world in an open-cockpit biplane. This book recounts his adventure.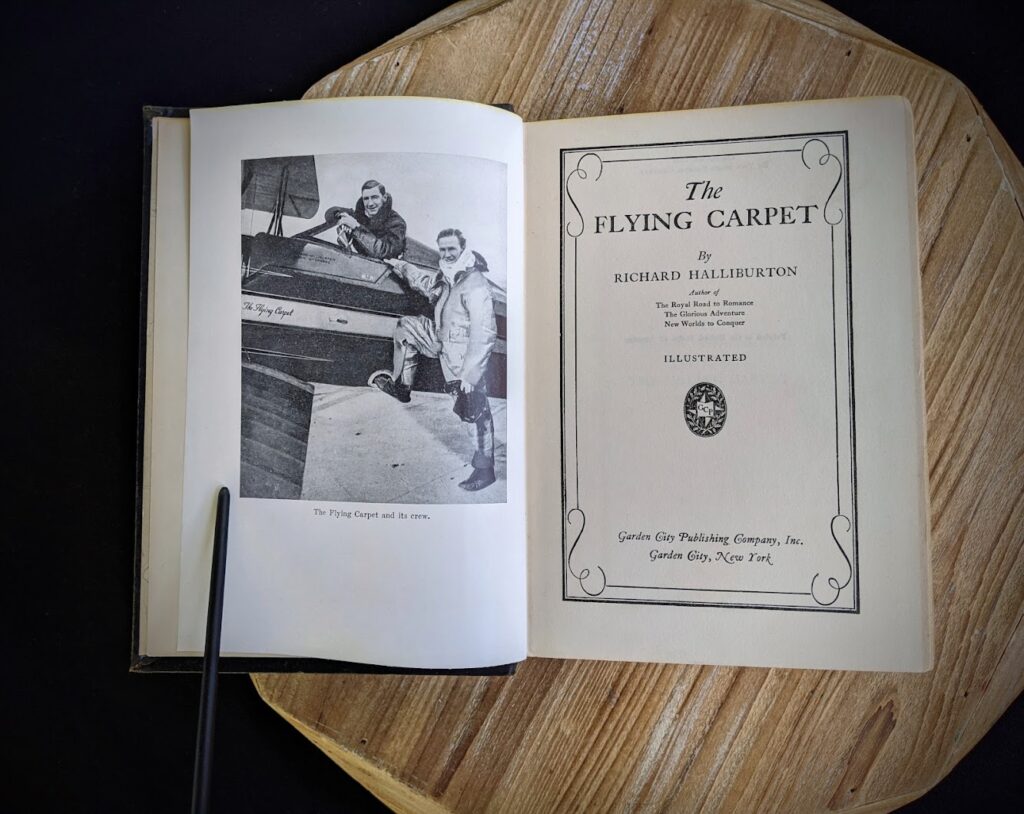 Synopsis from Goodreads:
Richard Halliburton could be counted on to lead his readers into strange places, hilarious difficulties, and bizarre adventures. He had already proved that you could see the world without a dime in your pocket, and have a whale of a time doing it. Yet after various adventures on land and by sea, America's most dashing traveler decided there was only path left open for him – the sky itself. "The Flying Carpet" was Halliburton's fourth and most famous book and details his epic adventures flying a bi-plane through remote parts of the globe. It recounts how Halliburton landed in Timbuctoo, passed over Mt. Everest, flew over the Taj Mahal upside down, and dropped down into the jungles of Borneo to visit native head hunters. "Stephens," Halliburton told the pilot, "I've just given myself an airplane and I want you to fly us to all the outlandish places in the world, Turkey, Persia, Paris and – Pasadena. We're going to fly across deserts, over mountains, rescue imprisoned princesses and fight dragons. We must have the world. We can have the world!" If one book can summarize all the reckless love of life and romance that symbolized Richard Halliburton, then this is the book.
~See all of the pictures posted in the Gallery Area of this posting!~

~ Price posted is in (CAD) Canadian Dollars ~