Description
-SOLD-
Study of Modern Drama by Barrett H. Clark. A Handbook for the Study and Appreciation of Typical Plays, European, English and American of the Last Three Quarters of a Century. Published in New York by D. Appleton and Company, 1925. First Edition.
527 pages including index. Good Condition. All pages are clean and secure to hinge. Gold gilt title blindstamp.
Contents: What this Book is and How to Use It. 1. The Norwegian Drama: The Pretenders. Peer Gynt. A Doll's House. Hedda Gabler. Bjornstjerne Bjornson. A Gauntlet. 2. The Danish Drama: Hjalmar Bergstrom. Karen Borneman. 3. The Swedish Drama: August Strindberg. The Father. There are Crimes and Crimes. 4. The Russian Drama ( Before the Revolution): Leo Tolstoy: The Live Corpse. Maxim Gorky: The Lower Depths. Anton Chekhov: The Seagull. Leonid Andreyev: Anathema. 5. The German Drama: Gerhart Hauptmann: The Weavers. Hannele. The Sunken Bell. Frank Wedekind: Spring's Awakening. 6. The Austrian Drama: Hermann Bahr: The Concert. Arthur Schnitzler: Light O Love. Hugo Von Hofmannsthal: Electra. 7. The Hungarian Drama: Ferenc Molnar: Liliom. 8. The French Drama: Henry Becque: The Vultures. Francois De Curel: The Fossils. Henri Lavedan: The Prince of d'Aurec. Maurice Donnay: Lovers. Paul Hervieu: The Labyrinth. Eugene Brieux: The Three Daughters of M. Dupont. Edmond Rostand: Cyrano De Bergerac. Chantecler. 9. The Belgian Drama: Maurice Maeterlinck: Pelleas and Melisande. Monna Vanna. 10. The Dutch Drama: Herman Heijermans: The Good Hope. 11. The Italian Drama: 12. The Spanish Drama: 13. The English Drama: Sir Arthur Pinero: The Second Mrs. Tanqueray. Iris. Mid Channel. Henry Arthur Jones: Michael and His Lost Angel. Oscar Wilde: Salome. Lady Windermere's Fan. Bernard Shaw: Candida. Man and Superman. Getting Married. C. Haddon Chambers: The Tyranny of Tears. Hubert Henry Davis: The Mollusc. John Galsworthy: Strife. Pigeon. etc. etc. 14. The Irish Drama: William Butler Yeats: The Countess Cathleen. John M. Synge: Riders to the Sea. The Playboy of the Western World. Lady Augusta Gregory: Hyacinth Halvey. Lord Dunsany: The Gods of the Mountain. Sir James Ervine: Mixed Marriage. 15. The American Drama: Bronson Howard: Young Mrs. Winthrop. Augustus Thomas: The Witching Hour. Clyde Fitch: The Truth. Percy Mackayne: The Scarecrow. Eugene Sheldon: The Easiest Way. George M. Cohan: Broadway Jones. Booth Tarkington: Clarence. Eugene O'Neill: The Emperor Jones. 16. The American Drama 1928-1938. 17. The Yiddish Drama: David Pinski: The Treasure. Peter Hirschbein: The Haunted Inn. 18. The Drama of Soviet Union. Bibliography. Index.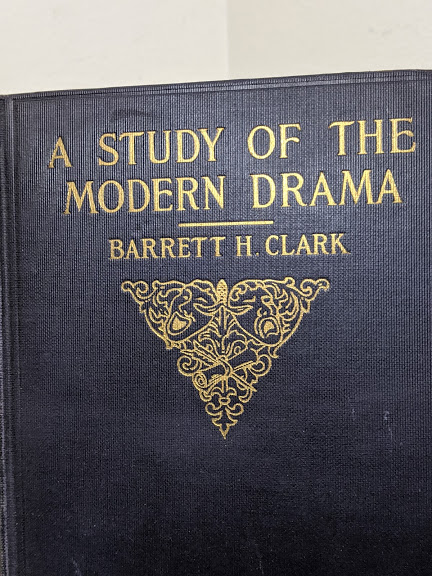 ~See all of the pictures posted in the Gallery Area of this posting!~
~ Price posted is in (CAD) Canadian Dollars ~