Description
SOLD
KLONDIKE – The Life and Death of the Last Great Gold Rush, by Pierre Berton. Stated First Edition. (First Canadian Printing). Published in 1958 in Toronto by McClelland & Stewart Limited.
This book was published simultaneously in the U.S.A as THE KLONDIKE FEVER.
All 457 pages are clean and secure to binding. No dust jacket.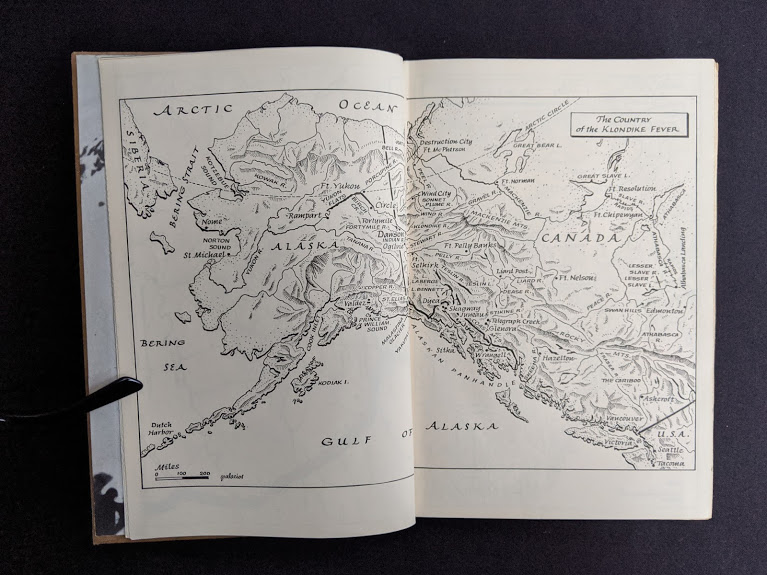 Statement by author inside this book:
"All the names mentioned in this narrative are real names. All the events here listed actually occurred; nothing has been invented. All the speech is reproduced, to the best of the author's knowledge, as it was actually spoken".
Synopsis (from Goodreads):
In 1897 a grimy steamer docked in Seattle and set into epic motion the incredible succession of events that Pierre Berton's exhilarating The Klondike Fever chronicles in all its splendid and astonishing folly. For the steamer Portland bore two tons of pure Klondike gold. And immediately, the stampede north to Alaska began. Easily as many as 100,000 adventurers, dreamers, and would-be miners from all over the world struck out for the remote, isolated gold fields in the Klondike Valley, most of them in total ignorance of the long, harsh Alaskan winters and the territory's indomitable terrain. Less than a third of that number would complete the enormously arduous mountain journey to their destination. Some would strike gold. Berton's story belongs less to the few who would make their fortunes than to the many swept up in the gold mania, to often unfortunate effects and tragic ends. It is a story of cold skies and avalanches, of con men and gamblers and dance hall girls, of sunken ships, of suicides, of dead horses and desperate men, of grizzly old miners and millionaires, of the land — its exploitation and revenge. It is a story of the human capacity to dream, and to endure.
Pierre Berton's riveting account reveals to us the spectacle of the Chilkoot Pass, and the terrors of lesser-known trails through the swamps of British Columbia, across the glaciers of southern Alaska, and up the icy streams of the Mackenzie Mountains. It contrasts the lawless frontier life on the American side of the border to the relative safety of Dawson City. Winner of the Governor General's award for non-fiction, Klondike is authentic history and grand entertainment, and a must-read for anyone interested in the Canadian frontier.
~See all of the pictures posted in the Gallery Area of this posting!~
~ Price posted is in (CAD) Canadian Dollars ~