Description
SOLD

Black Beauty; The Autobiography of a Horse by Anna Sewell.  First published by The World Publishing Company in 1946, this copy is a first printing of this first edition.  Beautiful illustrations full page colour illustrations and in black and white by Wesley Dennis.   Includes original dustjacket.
Since 1877 the story of "Black Beauty" has been a hallmark in horse stories both with hundreds of publications and in the re-telling in film. Written by English author Anna Sewell (1820 – 1878) the book broke literary ground by describing the world through the eyes of a horse. Due to an accident when she was very young Sewell was unable to walk or stand for any length of time thus spent much of her life dependent on horse-drawn transportation that fostered her respect for horses. Black Beauty was not written as a novel for children but rather "to induce kindness, sympathy, and an understanding treatment of horses". Sewell passed away just five months after its publication but lived long enough to see her only novel become a success.
This 1946 edition of "Black Beauty" is a Rainbow Classic published by the World Publishing Company. Wesley Dennis illustrated it with four full page color illustrations and black & white illustrations at the start of each chapter. The introduction was written by May Lamberton Becker (1873 – 1958) a literary critic that wrote a number of introductions for the Rainbow Classics.
About the Illustrator:
Wesley Dennis (1903 – 1966) illustrated over 150 books in his lifetime but he is best remembered for his book collaborations with Marguerite Henry, like King of the Wind which won the 1949 Newbery Medal. Growing up on a farm in Falmouth, MA he didn't start out to be an artist but after spending ten years doing fashion advertising sketches for newspapers and department stores, he decided to specialize in horses (his older brother was also an artist who specialized in dogs). After studying in Paris under landscape and animal artist Lowes Dalbiac Luard he returned from France in 1932 to begin his artistic career drawing and painting horses. In 1941 he wrote and illustrated his first book Flip and the rest is history.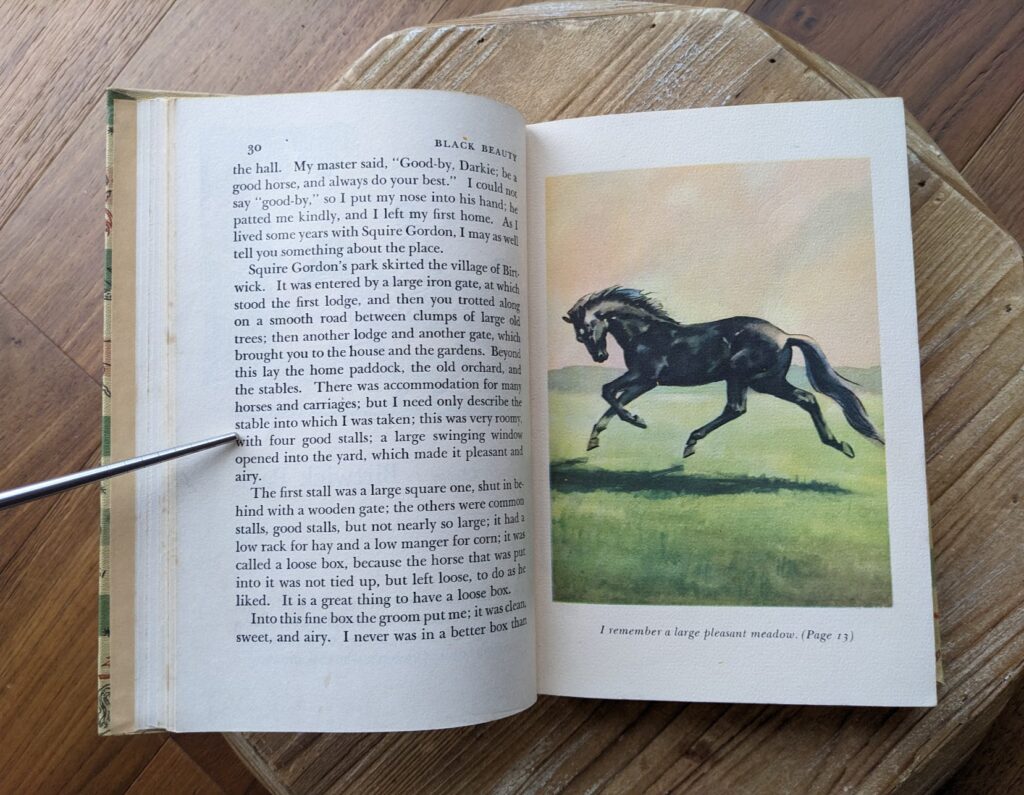 Condition of this copy:
The decorative cloth boards with walking horses and green and pink strips has a black title block on the spine with gold text. The dustjacket has a classic Black Beauty image that fills the circle on the front and has some edgewear (See images in gallery area for example of this) and is not price clipped. Spine and boards show minimal wear with minimal bumping to the corners. The binding  is tight, hinges are firmly attached with no cracking to the decorative end papers. Text block is solid with all pages firmly attached. . The interior pages are clean with no chips, tears and only previous owner's markings on title page (see image in gallery area for example of this) . 315 pages. Dimensions: H – 8-1/2" W – 5-3/4"
~See all of the pictures posted in the Gallery Area of this posting!~
~ Price posted is in (CAD) Canadian Dollars ~