Description
Mary Poppins Opens the Door by P.L Travers.  Published in 1943 by Reynal & Hitchcock.   Stated Second edition.  
All 239 pages are tight and secure to binding. The front pastedown and endpaper has boys jacket colored in and a few of the images inside have some color markings from an enthusiastic previous owner.   (see images in gallery area for example of this).   Some bumping wear to textblock edges and spine edge. No seam splits.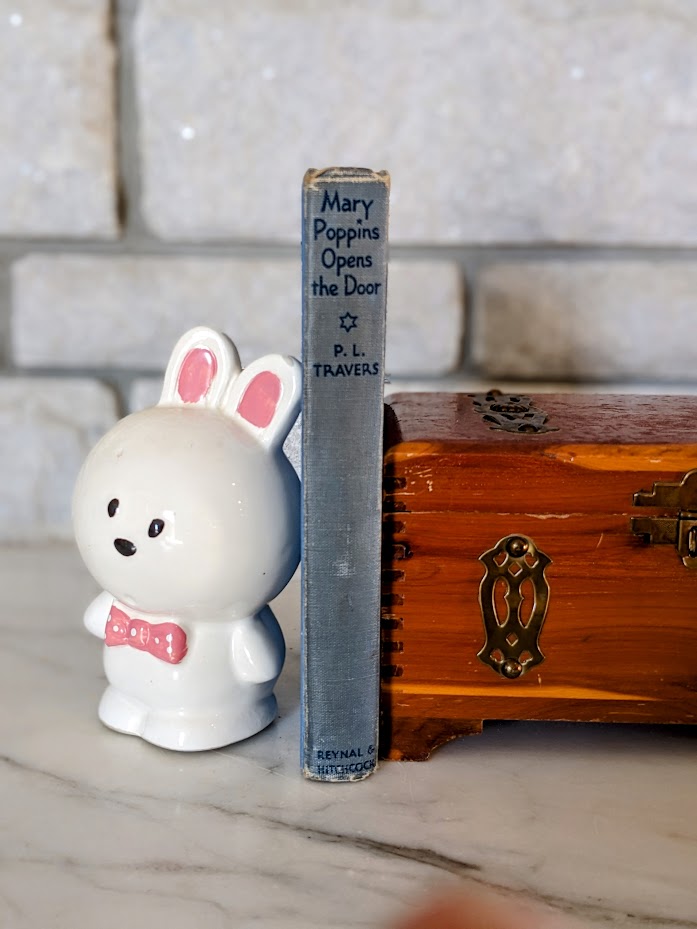 Synopsis:
From the moment Mary Poppins arrives at Number Seventeen Cherry-Tree Lane, everyday life at the Banks house is forever changed. This classic series tells the story of the world's most beloved nanny, who brings enchantment and excitement with her everywhere she goes. Featuring the charming original cover art by Mary Shepard, these new editions are sure to delight readers of all ages.
Mary Poppins is a series of eight children's books written by P. L. Travers and published over the period 1934 to 1988. Mary Shepard was the illustrator throughout the series. Mary Poppins opens the door is book #3.
The books center on the magical English nanny Mary Poppins, who is blown by the East wind to Number 17 Cherry Tree Lane, London, and into the Banks' household to care for their children. Encounters with pavement-painters and shopkeepers and various adventures ensue, until Mary Poppins abruptly leaves—i.e., "pops-out". Only the first three of the eight books feature Mary Poppins arriving and leaving. The later five books recount previously unrecorded adventures from her original three visits. As P. L. Travers explains in her introduction to Mary Poppins in the Park, "She cannot forever arrive and depart".

The beloved Walt Disney film, "Mary Poppins" was based on the famous character of these books!
Biography
Pamela Lyndon Travers, born Helen Lyndon Goff; 9 August 1899 – 23 April 1996), was an Australian-born British novelist, actress, and journalist who migrated to England and lived most of her adult life there. She is known best for the Mary Poppins series of children's books featuring the magical English nanny Mary Poppins. 
~See all of the pictures posted in the Gallery Area of this posting!~
~ Price posted is in (CAD) Canadian Dollars ~